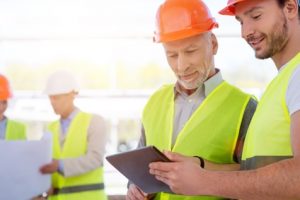 The construction industry is constantly evolving. Most of modern construction professionals have smartphones and use special construction apps for their work. Some of these apps can actually replace the office. Let's consider what exactly specialists need from modern construction mobile solutions.
The communication bridge and its value for the construction projects
Some time ago, the office was completely disconnected from the construction site. This leads to waste of time for the transfer of the information, delays in work and misinformed decision making. Modern mobile solutions allow all employees to be in constant communication at any location. Construction apps are a perfect way to instantly exchange calculations, information and any kinds of data. Also the speed and the quality of such communication should be especially emphasized. Absence of the lost time and interruptions in workflow directly influences the efficient of the employees and the revenue of the project.
Paper? Not in the construction industry anymore
Modern construction industry has a paper problem. Paperwork is usually the last thing field employees want to do. It takes a lot of time and can be extremely inconvenient. Using paper to collect the data can cost up to 31 times what it originally costs due to things like transfer, printing, copying, postage, storage, etc. Thanks to mobile solutions like mobile forms and construction apps, modern companies can eliminate paper and streamline construction projects. First of all, companies can save hundreds of hours collecting the data. Moreover, it improves accuracy and reduces issues that arise from poor handwriting, untimely transfer, inconsistent data, and information gaps. Mobile apps allow users to collect such data as images and locations. It is also important, that reduction of paper consumption preserves the environment.
Effective management as the way to raise the revenue and safety as the number one priority for construction
Project managers have to cope with so many responsibilities and mobile construction apps can significantly help with their work. Now any construction manager can instantly specify objectives and plans, assign tasks, track the progress of work, maximize the efficiency and more. Moreover, special apps can be actively used in budgeting and some legal issues.
Workplace safety should be the number one priority for any construction company and needs to be integral to a company's policy. Safety maintenance consists of several activities such as regular inspections and training. Mobile apps can be a perfect assistant in workplace safety maintenance and help avoid injuries and accidents. Read more about safety apps here.
The birthplace of the best mobile solutions for construction
Snappii offers powerful construction apps to automate all mentioned tasks done by field employees. Recently we have reached a major achievement being included in the Top 20 most popular construction management software report by Capterra. You can find more information about it here. All Snappii construction apps are 100% customizable and can be modified according to the specific needs. Our main principles are the speed and high quality, and of course, our main goal is a complete satisfaction of our customers. Among our customers are such companies as Harold Brothers Mechanical Contractors and we were very pleased to work with them. Join the team of Snappii successful customers, check our gallery of construction apps or request a custom app development. Let's start right today!