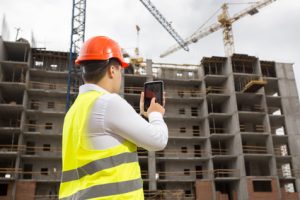 During construction or repairing of a building, many necessary constant inspections are conducted. Frequently, performing inspections was a real pressure for construction teams and inspectors. Stacks of paperwork, constant trips between the jobsite and the office, constant recheck of the reports, etc., make inspections a process of a huge amount of time, efforts and money. Nowadays the time-intensive task of work with field data has been solved by a smartphone with mobile inspection app and ready-made mobile forms.
Construction inspections at your fingertips
Mobile inspection apps provide specialists with all the necessary tools to ensure that the project is completed on time and on budget, and meets the regulations. They reduce the risks and contribute more efficient workflow. Let's consider some inspection apps in details and learn what benefits they offer to the construction companies.
Snappii is an expert in the mobile business app industry for about 7 years. Realizing that paper is the main cornerstone of construction inspections, we have converted inspection paper forms into the digital format and placed them into the powerful inspection apps.
All you need is already in this inspection app
First of all, we want to introduce you the Universal Building Inspection app. This app is ideal to perform the inspections for fire prevention, safety, maintenance, storage, occupancy and more. It covers both exterior and interior building inspections and helps to ensure that building systems are in a fair condition. Mobile forms of Universal Building Inspection app include building location, date of last inspection, electrical systems checklist, heating systems checklist, air conditioning, private protections, emergency evacuation and more. The app allows its users to capture photos and add signatures, images and GPS locations. All the forms can be instantly filled in and generated into the professional reports. Just imagine what amount of paperwork can be replaced by this single building inspection app. The detailed records of inspections are always at your hand and safely stored at your mobile device or cloud drives.
The best assistant to inspect the quality of anything
Quality Inspection app from Snappii is the indispensable helper in providing control under necessary safety actions, quality of work, types of materials and involved workers. Inspectors can easily collect project details even in the field, calculate working hours, create reports and more. This simple inspection app will help keep everything under control and optimize work in the field.
Keep your construction equipment at the highest level
Maintenance of the construction equipment is an essential process in the construction industry. Taking the paper out of it can significantly influence the whole construction workflow. Snappii offers easy-to-use Construction Equipment Inspection app with checklists for detailed inspections of all types and parts of the equipment. Ensure safety and avoid accidents, keep machines in working order, create the reports and notify site management staff of equipment status.
Snappii offers a 100% customization of its apps. You can add your own PDF forms and some additional features to meet your specific requirements. If you need a completely custom app personally for your company, Snappii team can create the powerful, feature-rich app in a few weeks.
It's time to make the construction inspections easier and faster. Conveniently perform all types of inspections using any mobile device and one of the inspection apps from Snappii. Find more apps here.