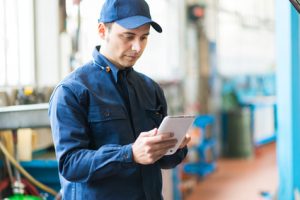 Tracking work hours on a daily basis can become a real headache for employees. Lost employee paper time cards and mistakes are often the norm. Moreover, such time card is not a reliable way to understand how much real time has been spent. Managers have to hunt out work hours of each employee, process this information and generate the reports. This task may even require a separate job position.
Punch In/Out Timesheet app is a must-have tool of any modern employee
Nowadays, thanks to mobile solutions all employees have the easiest way to track their working hours with their mobile devices anytime from anywhere. Today, Snappii is pleased to announce its new and unique Punch In/Out Timesheet app. The app allows employees and managers to eliminate paper time cards and optimize work time management. By using the Punch In/Out Timesheet app employees can punch in and punch out, add breaks and descriptions with one button click. This significantly saves time and helps improve the workflow. Moreover, after punching out you get the time card with all the details, it can be easily shared by email or other way. The app saves all the shifts enabling users to instantly generate timecard reports.
Get huge benefits from one small app
By making you always in touch about how you and your employees use the work time, Punch In/Out Timesheet app can:
– improve your productivity,
– arrange the documentation,
– increase efficiency and optimize the workflows,
– save time,
– avoid overwork,
– reduce costs.
Punch In/Out Timesheet app is available for free download from Apple App Store and Google Play Store.
Your successful experience is our top priority
"We offer a powerful mobile time tracking app for employees who work on site or change their locations often. Using the devices they already have, your employees can track their work time quickly and easily. Employees can punch in and out on their mobile devices anywhere, add breaks and details, generate powerful reports and send them to the management or accounting, analyze their progress with the Dashboard and more". Alex Bakman, Snappii CEO says, "We have over 200 apps in the Apple and Google Stores and are working hard to improve our top apps. Timesheets and time card apps are on demand today, so we are working hard to deliver the best apps to help business people track their employees' time".
Snappii is a leading mobile business apps company. All our apps are 100% customizable and this is our main advantage. Any app can be modified according to the specific needs. Snappii provides the speed and high quality of work. About 500,000 people use Snappii business apps in 30+ industries around the world. A significant number of happy customers agree on our high professionalism and real benefits it can bring to your business. Check our gallery of business app. And we are always here to get your special requirement and create the best custom app for your work just in a few weeks.