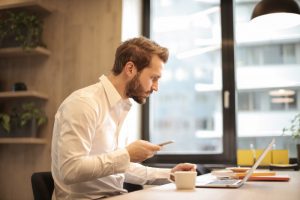 Mobile apps are the centerpiece of most modern businesses. But there is a common dilemma: should you build them or buy. More precisely, build mobile app from scratch, using special online platforms, or hire software developers to build a custom solution and get a ready-to-use product.
Trust but check
Custom app development companies offer 'packaged solutions' that address specific industry and business needs. Among the benefits are
– speed,
– high quality,
– ready to deploy,
– integration with different systems,
– and some other.
However, there are some cons. For example, difficulty in finding skilled mobile developers is the top roadblock to releasing enterprise apps in a timely manner, according to a 2014 report by Appcelerator and research firm IDC. And even if you manage to find such a developer, custom app creation will cost you a substantial amount of money.
You can do it. But are you ready?
Thanks to modern online app creation platforms, it does not necessarily mean becoming a code master to build an app yourself. With a bit of efforts and time almost anyone could create a complicated app for the most demanding client. Special no code app building platforms offer a ton of pre-made features and templates to meet the needs of any industry. Their advantages speak for themselves:
– 100% matching needs,
– cost-effectiveness,
– confidence in the result,
– no need to interact with hired developers,
– and more.
Unfortunately, there are several negative points of this approach. Sometimes app creation may require too much time. Not everyone is ready to postpone tasks and start building the app, even despite a simplicity of the process. The platform may not have the functions you need, and it can require ordering of additional options.
The question is – should you order custom app creation or build the app yourself? Our answer is not unequivocal. At Snappii we offer both custom business app development and the codeless platform to create the apps yourself. First of all you should analyze your needs and opportunities.
Before you make a choice
If you need rather a simple app, based on work with data, you definitely should try to create it yourself. Snappii provides powerful Mobile Form Converter to transfer your PDF forms to their mobile analogues. You just download Snappii Mobile Forms app and are able to use your converted forms and some features like instant generation of reports, their storage and emailing, autofilling and more.
For more complex apps, we offer custom app development. At Snappii, it's absolutely affordable and requires weeks not months. Anyone has an opportunity to get custom business app without breaking the bank. Your iOS and Android apps are designed, built, fully tested, and prepared for release to the app store. Our team works closely with you and meets all your needs and ideas.
Nowadays business apps are not a matter of choice, it's an essential tool of any successful business. However, you can choose the way of getting a mobile solution. And whatever you decide, Snappii is happy to support you.