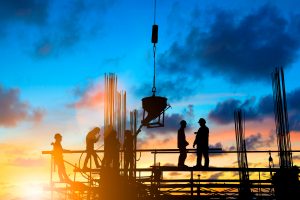 Construction spending was up in 2018 and it was also a record year for venture funding in construction tech startups. On the strength of the growing stats, builders and contractors want to keep up with the latest construction industry trends so that they can also stay ahead of the competition in 2019. Here are some trends that could affect how to conduct construction business in 2019 to be successful and profitable.
Drones: flying assistant
Drones is one of the hottest trends of recent years and it will gain momentum in 2019. With drones came onto the scene, contractors and construction specialists can get access to various data. Commercial drone use in construction surged 239% year over year, the fastest growth of any sector, according to a May report from DroneDeploy. Among  drones' useful features are:
– capturing photos from above,
– 3d mapping,
– terrain analysis,
– thermal heat imaging,
– visualization,
– etc.
When linked to a special mobile software, drones can provide even more opportunities. This year LAANC (Low Altitude Authorization and Notification Capability) opened up 99% of US airspace to drones.
Lean building: when less is more efficient
Construction is one of the world economy's largest sectors. According to a McKinsey & Co. report, under economic strains, it's all the most important for the construction industry to clamp down on inefficiency and improve productivity levels. Lean building is a solution, which allows eliminating waste in all construction fields, and contributes to rational and productive business. For example, avoidance of excess materials and overlapping in a workflow, accurate planning and creating strategies, in-time deliveries and decision-making. In a McGraw Hill Construction survey of such companies, 84% reported higher quality projects since transitioning from traditional methods, 80% saw greater customer satisfaction, 77% experienced greater productivity and 77% improved jobsite safety.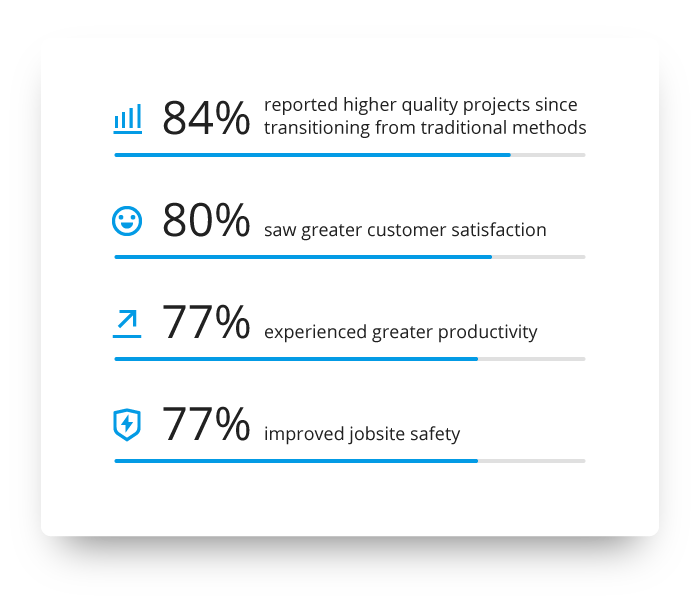 Mobile software for construction can become a useful assistance in the lean building. Construction apps contribute to more accurate and timely data, constant communication between different construction departments, efficient management, tracking, inspection and more.
Eco-building: eco means smart
From year to year, eco-friendly trend is becoming more and more popular in construction industry. There are some points to pay special attention in 2019.
Energy efficiency is one of them. Energy-efficient buildings of course, include solar panels and batteries. Moreover, modern building developers prefer super-insulating materials and smart energy systems, which contribute to secure energy supply while reducing carbon emissions. Construction specialists predict the rise of such sustainable energy sources in construction as biogas, wind energy, and geothermal energy.
Eco-friendly concrete is a mandatory component of successful construction company in 2019. Concrete manufactured from glass, paper, and foam is used as a substitute for traditional concrete. Since concrete is the most widely consumed material in the construction industry, this accounts for a whopping 9.5% of global emissions. Also concrete requires constant costly maintenance and repairs. This way, the innovative self-healing concrete is helpful for the environment as well as for the economy.
Now some construction companies have an interest to such materials as recycled plastic, wood, mycelium, hempcrete, etc. 2019 will provide even more eco-friendly solutions and strengthen their use.