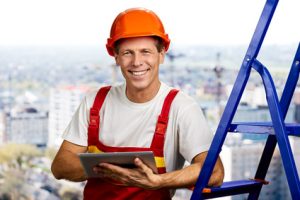 If you provide any service, you have to deal with the cash flow. Modern mobile solutions can help you optimize profit management. Invoicing, work assigning, estimation, scheduling and more, all these activities can be done with a proper mobile app. Such business app will allow your daily operations to run without interruption and get a stable flow of profits. Let's consider it in more detail.
Instant and accurate estimation and bidding
Workers receive requests for a new job and should transfer them to the office for processing. It takes time, and time is money. Estimating and bidding app allows any worker to contact sales or management department lightning fast, provide all necessary details and instantly get estimates and invoices. Accurate and fast organization eliminates delays and streamlines the process. Also it affects the positive image of your business and contributes to the service promotion.
Optimized workforce and profit management
Estimating and bidding apps are also a useful tool for sales and management departments. They can manage profit flow and workforce, making instant timely estimates, knowing who created the quote, tracking the progress of work and possible order and payment changes. The apps allow specialists to keep all the business under constant control without extra efforts and costs. Moreover, estimating and bidding apps are able to optimize reporting. It is the most convenient, flexible and safely way to keep all reporting data, which is always available and at hand.
Streamline on-site operations with Construction Estimator and Bidding app
Snappii, a mobile business app development company, helps improve daily business operations of various services and companies from different industries. Estimation, invoicing and bidding are among the main processes Snappii tries to streamline. For example, we have designed the all-in-one Construction Estimator and Bidding app to quickly create on-site estimates for construction and repair projects. The app allows users to quantify material, labor and other costs needed to complete a construction project. Also users can do all the calculations right in the app. Completed estimate forms can be sent to the customer and manager as PDFs. Construction Estimator and Bidding app is 100% customizable as all Snappii apps. You send us your requirements and we discuss app customization to meet all your specific needs.
Create mobile app for estimation and invoicing in a snap
Some time ago, Snappii decided to empower a common person in mobile technology and provide people an opportunity to generate mobile apps on a base of digital forms themselves. Now anyone even without special tech skills can create mobile form apps. There are some easy steps: to pick a form template or upload your own existing PDF form or report, drag and drop necessary fields to the form, download Snappii Mobile Forms app to preview the form and start using it. It has never been so easy. Snappii offers pre-made estimate and invoice mobile forms to immediately fill them out. What takes 2-3 hours each day now can be done in several minutes.
"I get a new form up and running in no time and it saves us hundreds of man hours when it comes time to audit our safety program." Curtis Hrdlicka, GLV Travellers
"Thanks to Snappii, we moved away from paper forms and are quite pleased with the result. Now it literally takes a few minutes to fill out the report, sign and send it." Steven Koski, Harold Brothers Mechanical Contractors, Inc.
Join Snappii successful customers right now. Have any questions? Contact us at support@snappii.com.