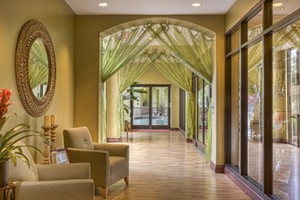 Mobile technology influences our lives to a large degree. The 2015 U.S. Mobile App Report notes: "Digital media time in the U.S. has exploded recently – growing nearly 50% in the past two years, with more than three-fourth of that growth directly attributable to the mobile app". Mobile apps are taking over multiple industries and fields. The hospitality industry is no exception as nowadays any hotel administrator or café manager can have an app that makes their work easier and more efficient and improves the whole business.
Hotels with Apps are Winning over Guests
Nowadays many major and middle hospitality brands provide special mobile apps to their guests to anticipate their needs and wants before arrival on premises. Also, apps enable them to create branded experience more easily and establish stronger relationships with guests.
For example, "Gansevoort Hotel Group and Standard Hotels are among the brands cottoning on to the trend by integrating with service-on-demand application Alice to bring guests convenient features, including poolside ordering and express checkout".
"While other hotel apps seek to maximize what's available inside the hotel's doors, the James Pocket Assistant takes a bigger view. Launched last year by The James Hotels (locations in Chicago, Miami and New York City), the app provides a curated selection of the best restaurants, shops and unique attractions in the hotel's vicinity".
Internal Benefits
Besides their internal benefits, mobile apps provide huge opportunities for internal hotel operations. For example, administrators can use them for faster and more convenient registration of guests. Moreover, apps are a good tool for quick and constant staff communication. Last but not least, specific departments can get unique features for inventory management, document processing, multiple inspections, etc.
Snappii, a rapid mobile app development company, can create an app of your needs just in a few weeks. We guarantee the quality and compliance with your requirements. Snappii is a leading provider of powerful business apps, which you can find in its ready-made collection. All these apps are 100% customizable and can be changed in accordance with your special requirements in a few days. With Snappii, achieving success is much easier.