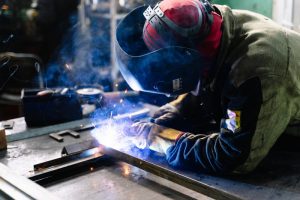 Welding operations present several hazards to both those undertaking the activity and others in the environment. This may be associated with harmful bright light, burns from molten metals, etc. Therefore, it's important that both the employers and employees are aware of the risks and hazards welding poses, and understand what precautions they can take to prevent accidents.
The importance of eye protection
Eye injury is the most common type of injury, and sometimes it can even results in blindness. It may occur from radiation, intense light produced by a welding arc, sparks, hot slag and other flying particles. This way, all welders should know and follow the best safety practices related to eye protection during welding.
Basic Eye Safety Equipment
Lack of personal protective equipment (PPE) is the leading cause of injuries. Eye protection equipment usually includes safety goggles, safety glasses, welding helmets and face shields. The equipment must always be appropriate for the type of welding.
Safety glasses
Safety glasses is an important safety measure and should always be under a welding helmet in every welding work. There are different levels of protection, which depend on the type of welding. The glasses should have side shields to provide full protection to both the front and sides of the eyes. There are special tests the safety glasses must pass before they are certified for use.
Safety goggles
Safety welding goggles are more advanced than safety glasses. They provide high protection of impact, particle and welding light. Safety welding goggles also have shade level like safety glasses. Safety goggles have special venting. It way be direct or indirect. Goggles with direct venting come with a mesh of small holes on the sides. This helps reduce fogging. If prevention of fogging is not a priority, there is an indirect venting, using in protection from high dust and splash.
Welding helmets
A welding helmet protects the skin and eyes from severe sparks, as well as from vision-damaging infrared and UV rays emitted by the arc. Welding helmets usually should be worn over welding goggles or safety glasses. Also they should have a filter shade that is suitable for the type of welding. There are helmets with a fixed shade which remains darkened at all times. Moreover, there are auto-darkening helmets, which automatically change the shade when a welding arc is initiated.
Face shields
Face shields are used to protect a welder's face in addition to the eyes, offering even higher impact protection. There are filters in face shields for additional protection from sparks and debris.
In addition to using the protective equipment above, it is important to control established rules of conduct, regular inspect welding equipment, check and maintain fire-fighting equipment and conduct regular safety trainings.
Snappii's safety mobile solutions
Snappii can become your assistant in providing safety at the workplace. We offer powerful apps for various safety inspections. For example, a ready-made Welding Environment Inspection app. Make sure that welders adhere to safety guidelines and keep workplace safety with the convenience of your mobile device. Learn more about the app and download it to try. Find more safety apps here. Most of them are customizable. If you are interested in creating your own app, Snappii team is able to provide its excellent service. We create complete custom business apps in weeks. All your requirements will be met. Contact us here to discuss this.