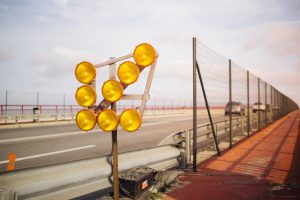 Any road construction project is accompanied by inspections. This is required to be sure that work is being done in accordance with established criteria and generally accepted practices, that the road is built with quality materials and that the road construction process follows safety regulations. A variety of specialists may be involved in inspection activity either through the contractor or from the road owning organization. Both sides have an incentive to inspect the quality of the work as it comes with costs.
Observation without intervention
Inspectors can't interfere with the construction process, they just monitor and observe. If inspectors notice an issue that can influence the project and requires specific actions, they can communicate with a project foreman or someone with the authority to make decisions and direct workers accordingly.
Inspection teams and distribution
Inspectors commonly spend all of their working hours in the field, observing the work and collecting necessary data. It is a time-consuming process, that's why large and complex projects require more than one inspector. This way, they form an inspection team. Responsibilities and certain areas of work can be divided between the inspectors. The chief inspectors or project managers oversee an inspection team and coordinate it.
Mobile solutions
Inspection is agile and observant type of work and requires special smart tools. Modern inspectors prefer mobile solutions for fast and efficient operation in the field. Inspection apps allow them to avoid paperwork and automate work with inspection data. Moreover, special inspection apps ensure constant synchronization and communication of the entire inspection team. Inspectors are even able to generate professional reports, based on the data received, right on their mobile devices and share them.
How Snappii can benefit road inspection process
Snappii is a leader of multifunctional inspection apps. We cover a plenty of industries and offer a high quality service for companies of any size. Meet Snappii's ready-made Road Inspection app. The app covers the following types of inspection forms:
– Risk Assessment
– Road Segment Inspection
– Concrete Roads Inspection
Snappii team is always ready to add your own forms to this app. Fill in mobile forms in a snap, safely collect all data and share it with anyone. Download and try Road Inspection app.
Snappii is able to create your own custom app from scratch in accordance with your specific needs. We hold every app we make to the highest standard. Send us your requirements and let's discuss them.