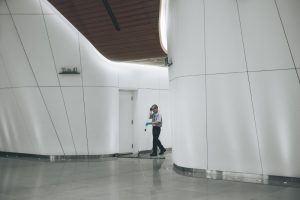 When you've invested in a new floor of your business facility, you'll want to keep it in top condition. First of all, maintaining cleanliness contributes to making a good impression on clients. Also, it helps a floor serve as long as possible. There is a wide range of cleaning services. Here are some factors to keep in mind in this process.
Consider a type of floor
First, you should check the flooring material in your facility. The choice of cleaning agents and equipment will depend on this. Hardwood floors, tile, and grout usually need heavy-duty floor machines for multiple cleaning jobs, including shampooing, stripping, buffing, and grinding. Carpeted floors require a special, high-quality vacuum and carpet detergents.
Determine the frequency of cleaning and special areas
The frequency of floor cleaning is largely dependent on how much traffic you are getting in a specific area. Keep special attention to such areas as:
– entries and exits,
– primary hallways,
– stairwells.
They require more frequent and thorough cleanings.
Assess a space
Before investing in floor cleaning service, it's important to go over the size of the premises. Once you've established the scope of the cleaning jobs, you'll have a better sense of the type of cleaning and equipment you need, as well as determine a financial component. Your aim is to find more efficient and advantageous way.
Cleaning Inspection Checklist app
Snappii offers a smart tool to always keep your floor clean. Make regular cleaning inspections with Cleaning Inspection Checklist app. This powerful app will help you understand when it is a time for professional cleaning, as well as will allow you to quickly check the result obtained after the operation of cleaning service. Fill in pre-made mobile forms, add evaluations, notes and photos about the quality of cleaning. Generate a PDF report of inspection, print it if you need, or send it via email. Cleaning Inspection Checklist app is available for both Apple and Android devices. Moreover, Snappii team is able to customize the app to meet your specific needs. For example, we can add your existing forms to this app. Contact us to learn more and discuss it.