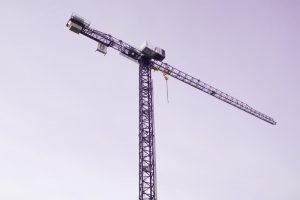 Construction tower cranes are the backbone of most large construction sites. The jobsites can't work to their full capacity without them. However, working with cranes poses many hazards. Unsafe practices can lead to costly damage, injuries and even fatalities. Therefore, it's important to know the main hazards and how to prevent them.
Falling of loads
Falling loads are one of the most common hazards when working with construction tower cranes. It can result in damage of building and property, injuries and fatalities. Also, it leads to delays and extra expenses. It's extremely important to be sure in operator competency. Operators and all specialists working with cranes should be proper trained so they are able to operate competently and safely. In addition, construction businesses should use only verified and high quality blocking systems.
Overload
The majority of crane failures and hazards are the result of overloading. Exceeding of crane's operational capacity can cause irreversible damages and a dangerous situation for all workers. Do not take such risks and always observe the established weights and volumes.
Power lines
Around 200 fatalities per year are the result of contact of construction tower cranes. Any workers in the vicinity are at risk when cranes operate near power lines. It's crucial that pre-job planning takes into account the location of power lines.
Here are some more crane safety tips:
– Appropriate and regular training of all employees,
– Knowing and following the rules of Lifting Operations and Lifting Equipment Regulations 1998 (LOLER),
– Proper safety plan before starting the work,
– Appropriate PPE for workers,
– Regular safety inspections.
Safety inspection apps
Mobile apps are the best and the most convenient way to conduct safety inspections right on the jobsite. Safety inspection apps from Snappii allow users to collect all necessary data, observe regularity, instantly process data, generate reports, share them and safely store. Visit the gallery and find the ready-made safety inspection apps. Moreover, you can send us your requirements and Snappii team will create a custom app in accordance with your personal needs.