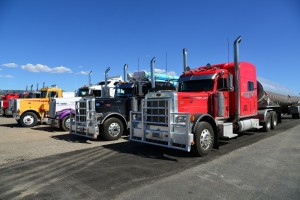 We are living in the era of mobile technology, and it's not surprising that mobile devices and mobile apps have become an integral part of modern businesses across industries. That said, in logistics, transportation, and supply chain fields mobile devices and apps have long been an essential tool.
Mobile Solutions Change Supply Chain Management
The benefits of deploying mobile apps for supply chain and logistics are substantial. Mobile apps deliver shipment visibility, provide constant communication between employees, simplify the work with bills of lading and other documentation, help in management and controlling processes, etc.
Here are some responses from the experts in this industry from the Inbound Logistics article.
"These tools have helped us with real-time delivery information," says Garry Smith, program manager, supply, at Carlton & United Breweries. "Our mobile solutions tell us exactly where our trucks are in transit, and where we need to make any adjustments. Implementing mobile computing gives us flexibility to manage and optimize throughout the day". Luis Ramos, a general manager in Goya Foods, a food company based in Secaucus, N.J., notes "Outside the distribution center, mobile computing gives us the opportunity to visit customers, then record and transmit orders wirelessly through the available cell phone network to our host system for processing".
Snappii, a Great Mobile Solutions Provider
Gartner, the information technology research and advisory firm, predicts that through 2016, 25% of supply chain organizations will have a comprehensive supply chain mobility strategy. If you want to be one of them, Snappii, a rapid mobile business app development company, can help you. Snappii is a leading provider of powerful business apps for different industries. Snappii's policy envisages the operation in complete accordance with the requirements, needs and wants of its clients. Custom mobile app development is a great opportunity to get a high quality, feature-rich, and totally appropriate business app in a few weeks. Last but not least, Snappii offers 100% customization of its ready-made apps, which you can find on our website.