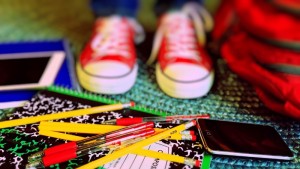 Today mobile technology dictates our way of life. With 171.5 million people in the US owning smartphones, this device has become the staple of everyday life, especially for the younger generation, growing along with the development of mobile solutions. It's not surprising, therefore, that modern students use mobile technology in all aspects of their lives.  Moreover, nowadays they are themselves becoming the creators of different mobile solutions.
For example, in his article for Huff Post Education, Joni Blecher says, "At San Elijo Middle School in San Diego, students are using their technology prowess to help fellow students with special needs learn". Under the direction of the entrepreneur turned teacher Allen Brooks, students create apps based on specific education needs and interests of each student in the class, using the Smart Table Toolkit with a drag-and-drop interface.
Successful Collaboration
Microsoft Educator Network has published an article about interesting collaboration between students and teachers. "The idea being that students from Uppingham Community College in England build their apps and that they would be used in the lessons with the teachers. The students went around to interview teachers and they would ask them about the type of app which would help learning in the classroom. Since the beginning of this project, students are now developing more and more apps and these are being used in lessons over and over again".
Johns Creek Advantage, the economic development arm for the City of Johns Creek, Georgia, even organized a competition among local high school students. "The competition, presented by Comcast Business, asks students to develop an app that would highlight and promote small businesses in the city".
Future of Mobile Technologies Belongs to Younger Generations
It is important to control the way students use mobile technology, and solutions above demonstrate the right direction in this process. Modern students have a huge potential and all necessary tools for future breakthroughs in mobile technologies.