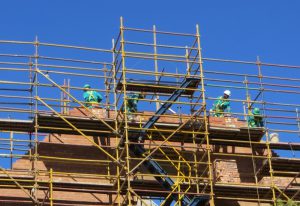 The reality for construction sites is the more steps workers need to take to document daily activities, the more likely they will make mistakes and inaccuracies and ultimately try to dodge this process. Most people don't enjoy paperwork and this is not surprising. No field worker wants to spend time filling out paper forms and transferring them to the manager after a grueling workday at the construction site.
What Snappii can offer
Snappii has been supporting construction field workers for about 10 years. Keeping in mind the problem with paper-based daily reporting, Snappii has created outstanding solutions to solve this issue and make the life of field workers easier.
A ready-made Construction Daily Log app from Snappii allows users to create professional daily reports in minutes right on a mobile device. It is a smart and affordable way to eliminate paperwork. No more need to spend hours on this process and visit the office. The Construction Daily Log app includes a one-page collapsed form to collect all necessary details of the workday and the progress of the project. After filling out the form, it can be instantly generated into the PDF report. The report can be submitted to the manager in various ways and safely stored in the app, this way users can access all the reports anytime. Recently we have added one important feature to allow managers to track who has not turned their report in. Read more about it here.
If you are not ready to leave your existing forms and reports, Snappii can offer the following solution. We can easily convert your paper forms and reports to their digital analog to fill them out on any mobile device. It is affordable for anyone as well as simple and fast to implement. Send us your forms and requirements here.