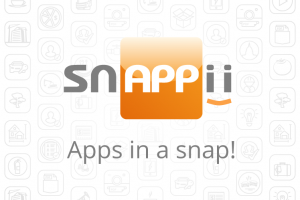 Today, all popular shops have their own websites. However, the percentage of those who are attached to the new mobile technologies and create mobile applications for their stores continues to increase
People often use their mobile devices to make purchases. 2013 saw 39% of eBay's sales originate from mobile devices. M-commerce sales at eBay grew 70% in 2014, according to the 2015 Internet Retailer Mobile 500. During the last two years, application functionality improved to such an extent that smartphones became the main platform used to shop and browse content.
Fortunately, with codeless rapid development platforms like Snappii's, any shop can create a mobile app and enjoy its benefits. Here are some of them.
Increase in profits
Thanks to mobile apps, now buyers can make purchases right from their mobile devices. Galleries of goods enable customers to evaluate products and services, the in-built chat allows them to discuss their quality, and one-touch checkout further simplifies the shopping experience.  As a result, businesses generate more customers and increase profits.
Advertising and brand promotion
If you thoughtfully approach the design of your mobile application, it can become an additional advertising medium for your store. In fact, retail mobile applications allow business owners to introduce their products and build long-term relationships with their buyers. For example, they offer instant access to products and services with the click of a button and support sending out location based push notifications with new products, sales, and promotions. Furthermore, shopping mobile apps promote certain goods and services as people usually share their positive shopping experiences on social networking cites.  Last but not least, company specific color themes and logos used in retail mobile apps help build and strengthen their brands, generating more loyal customers.
Convenience in management and better productivity
HR-features offered by retail mobile apps help you effectively manage the staff and have a constant control over business processes. For employees apps provide mobility, save time and improve their productivity as certain features simplify the supply, inventory, and accounting processes.
Snappii, a codeless mobile business app development platform, offers applications that have all the above benefits. Snappii works in different industries, such as Retail, Inventory, Transportation and Logistics, and HR. Moreover, Snappii can customize any our ready app in days. Our company offers more built-in features than any other codeless app platform. We highly advise you to take advantage of the free demo option to learn more about our platform and find exactly what you might be looking for.