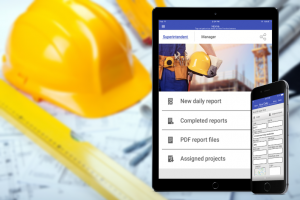 A new and improved Construction Daily Log app has become number one downloaded app in the Construction industry.
Snappii, a leading Mobile Business Apps company helps to design, build, and deliver feature-rich business apps in days versus months without any coding skills. Any business app can be created quickly, easily and affordably. The platform also makes it easy to manage Apps and make ongoing changes.
Today Snappii announces an updated and improved Construction Daily Log app that is used by 500,000 professionals all over the world. The app is installed on 50,000+ Smartphones and Tablets and the number is growing.
Snappii mobile business apps are presented in a lot of business industries, the construction industry being one of them. Snappii Construction Apps are designed to improve Field management.
One of the best practices for the Construction industry is Construction Daily Log mobile business app. Construction Daily Log mobile app is designed to track daily progress on job sites so that contractors, subcontractors and owners can deliver projects on time and on budget. This #1 App is used by tens of thousands of construction companies around the world. It is the only Daily Log App that can be configured to match 100% of any company's specific needs. Construction Daily Log continues to work offline and automatically synchs when the internet connection is acquired.
The app includes contractor details, site information, work performed, subcontractor progress, issues and punch lists, reasons for delays, additional work or change requests, materials purchased and received, labor and travel hours and more. The app captures weather conditions, locations, date and time, amount of labor performed and other field related information anytime from anywhere. The app improves communication between the Superintendent in the field and Project Manager in the office.
Using a Construction Daily Log app, a Project Manager or owner can manage the project from the Dashboard, quickly see problem areas immediately and react fast to get the project back on time. Moreover, they can:
– Add superintendents list
– Create projects and assign them to superintendents
– Check received and missed reports
– Track daily work progress and issues
– Quickly understand project status in an easy to use Dashboard
A Superintendent can:
– Create daily reports
– Type in or dictate (voice to text) information on the go
– Retrieve daily logs, print and share them
– Assign Tasks
– Update and track logs on daily basis
The new features include:
– New amazing design
– New project management functionality
– Easy to use Dashboard, where anyone can check projects statuses
– Audio notes. No more typing, just dictate
– Missed reports log
By utilizing the Construction Daily log mobile app its users will have the following benefits:
– Keep good records of daily construction activity
– Improve project documentation
– Increase efficiency. No more lost forms or driving to the office to drop off forms
– Optimize the workflows between field teams and office employees
– Save time and reduce costs
– Eliminate paperwork and lost forms
Construction Daily Log app is a convenient and easy-to-use mobile solution that will increase a company's efficiency, optimize the workflow, reduce costs and lower deployment risks. Construction Daily Log app is available for free download from Apple and Google Stores and can be 100% customized to specific needs of each company.
Snappii already has 400+ live business apps in 30 industries available for download for free on Apple and Google Play stores and this number keeps growing. Snappii is used worldwide by over one million users.
About Snappii:
Snappii is a leading Mobile Apps company for Business Apps. About one million people use Snappii Business Apps in 30+ Industries around the world.
All Apps are powered by the Ultra Fast, No code Snappii App Builder Platform which enables native App creation 30 times faster than coding and costs a fraction of hiring Mobile Apps Developers. Learn more at http://www.Snappii.com.