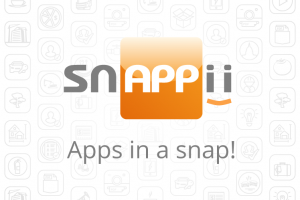 Snappii mobil app development platform allows people without programming skills to create iOS, Android and HTML5 web mobile business apps in hours. That is possible due to specially designed WYSIWYG editor with "Drag and Drop" functionality. Coding from scratch is not required, just drag and drop already available tabs and buttons, enter necessary content and build your own app.Snappii developers and designers have updated App Gallery and now you can search and find templates according to your requirements. Snappii team has improved the templates and integrated all the latest features supported by Snappii into them. Just select any and modify it as you prefer.
Snappii does its best to ensure a great user activity. Excellent user interface makes app development process easy and pleasant. Snappii has changed its design greatly and looks even more attractive and professional. All the necessary information is at hand now: easy to find and use. The editor has undergone positive changes as well. They are the following:
– HTML5 web app settings are put into a separate category
– Collapsable left panel which opens more free space for app creation, no need to scroll tabs and fields, they are all visible now
– "My Apps" button is placed in the editor
– Better perfomance and no "Saving" issues in various browsers
– The new editor fits most frequently used screen dimensions
– Easy access to Live Help and Webinar trainings if users get stuck
– Additional box for Android Live app id to set up Paypal account integrated in Snappii mobile business apps
Both current Snappii users and new comers will find the new design more intuitive and convenient. That all means that app development is becoming quicker and more simple. Snappii will continue improving its editor based on customers" feedback and ideas. The WYSIWYG editor is a valuable solution for DIY and Enterprise clients. Make mobile business apps and test them on your device right away.  All are welcome to try the enhanced Snappii editor and enjoy creating their mobile business apps there.