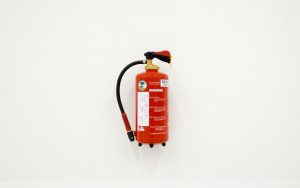 According to U.S. Fire Administration, 10-year trends for fires and fire-related injuries have decreased. However, the trends for fire-related deaths and dollar loss have increased. People still don't take fire preventive measures seriously enough. Especially at enterprises where the risks are higher. Fires in businesses can result in substantial property damage and endanger hundreds of lives. Here are several steps that are essential while implementing the fire safety policy in the workplace.
Constant control of potential problem areas
There is a number of common hazards at any enterprise that is likely to be the source of a fire. It usually concerns machines and equipment, various electrical appliances and cords, flammable, HVAC systems, and more. All these potential problem areas should be regularly inspected and maintained to identify any malfunctions at the earliest stages.
Ensuring proper and functioning fire-fighting equipment
Every business should have functioning fire-fighting equipment such as fire extinguishers, smoke detectors, sprinklers, etc. The service life must be clearly tracked. And of course, such equipment must be constantly maintained.
Emergency plan and employee preparation
Preparation is one of the most important elements of a fire safety policy. Each enterprise must have an emergency plan. Moreover, all employees must be instructed in emergency procedures. Regular training, fire drills, and reminders are essential. Also, it is important to make sure the emergency and evacuation plans accommodate employees with disabilities.
The role of mobile solutions in fire safety policy
It is important to understand that these measures aren't for getting leadership, managers, and all staff in trouble and providing additional load — they contribute to a safe and successful workflow. Nowadays there are solutions to streamline and simplify fire preventive measures. Fire inspection apps are a real godsend for enterprises. They allow users to keep all aspects of fire safety policy under control without a huge investment of time and effort.
Fire Inspection app – a must-have tool for any enterprise
Snappii has been providing high-quality mobile solutions to businesses for 10 years. One of the fields we cover is various inspections. Snappii offers a special ready-made app to conduct fast and professional fire inspections without paperwork. The Fire Inspection app allows users to capture required data easily and quickly using a mobile device. The pre-made mobile inspection form can be filled out in few minutes. There is an opportunity to take and attach photos. The completed inspection form can be signed and generated to the PDF or Excel report, shared and stored on the device. Watch how the Fire Inspection app works in this short video demo. The app is available in Apple App Store and Google Play. The Snappii team is ready to discuss app customization. If you have your own convenient, familiar, and well-established forms, we can convert them to their digital format and add them to the app. Send your forms and requirements here.