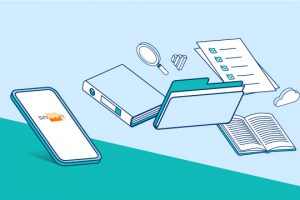 Mobile technologies have assimilated into our lives and everyday routine. We use mobile apps for everything. However, mobile apps are not just fun or informational resources, they are also able to accelerate daily operations at work thus making tasks completion a breeze. Snappii has created a list of the top three apps that are an absolute must-have for every industry.
My Daily Report App
Send professional daily reports to your boss and clients from anywhere. Easiness of use and simple interface make this app #1 for everyone who doesn't want to spend much time on daily reports. Besides, the app generates professional PDF reports that can be shared via means available on a mobile device.  My Daily Report App is free to use and can be downloaded from Apple and Google Stores. Additionally, the app can be customized to meet the specific needs of any business.
DocuMate Scanner App
Paperwork is everywhere. People need to scan documents, sign them, ship them and it takes way too much time to find them. What if there was an app that would scan, sign, store, share, and have the ability to easily retrieve any document? There is such an app. DocuMate Scanner. Using this app, anyone can handle all the paper documents and process them instantly. Store them right on your mobile device, find them with a keyword, and share. Learn more from this video.
The app is available for free download from the Apple Store.
Daily Activity and Time Reporting
This is another important app to track your employees' time and activities. This app allows project managers and others to log the time spent by employees on a particular task. The app automatically calculates the time and emails a professional report to the office. This significantly accelerates workflow and team collaboration. The Daily Activity and Time Reporting app is available for free download from Apple and Google Stores.
At Snappii we believe that daily operations can and need to be automated where possible. Mobile apps are a great tool to help optimize workflows. Snappii has 200+ ready-made apps for lots of industries. You can view our apps here and request a demo to see how the apps work and can help you improve your business processes. The majority of Snappii apps can be tailored to your business needs. Simply send us your requirements, and we will provide you with a quote.