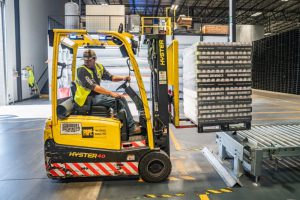 Managing a warehouse includes planning the storage, supply, and control of the inventory. Inventory and warehouse management is increasing in value and relevance. The number of warehouses in the U.S. has risen 6.8% over the last five years (Bureau of Labor Statistics). Accuracy, efficiency, cleanliness and safety are the major principles of a proper warehouse management. However the industry is quite dynamic and, managers face some problems. There are the most frequent challenges of warehouse management and inventories and some actions that help overcome them.
Poor facility layout and configuration
Insufficiency of storage space, its inefficient usage and poor logistics are a quite common problem. Poorly configured warehouses may lead to loss of time, extra costs and loss of quality of the merchandise. To make the best use of the available space, managers should regularly check and improve the storage systems; factor both the floor space and the vertical space available for use; take into account the demand for the merchandise and the frequency of its movement; use forklifts to maximize the vertical space; have an accurate plan of the warehouse with immediate making changes.
Poor data management
Warehouse managers regularly deal with a huge amount of various data: goods and raw, who transported them, which lot they belong to, date and time of delivery and shipment, and more. The collection and management of all this data require time and accuracy. Gaps and omissions in this process may lead to a loss of control over the goods, confusions and loss of money. However, thanks to modern software, data management can be significantly optimized. Mobile apps allow instant collecting of necessary accurate data and keeping it at hand. Warehouse management apps are also an essential tool for what will be noted in the next paragraph.
Inaccurate Inventory
What is the core in warehouse inventory? These are accuracy and efficiency, which go hand in hand. Inaccurate inventory causes problems such as maintaining improper stock levels, lost sales, extra expenses, lost revenue and low productivity. Automation is a key solution for such accuracy-related problems. Warehouse inventory apps help provide accurate, timely and transparent data. They save time and eliminate difficulties and errors associated with manual completion of inventory forms. Inventory apps provide constant access to all data with no need to visit the office.
Keeping into account the current dynamic in warehousing industry and the best practices of modern mobile solutions, Snappii offers multifunctional warehouse management apps, as well as inventory apps.
Warehouse Inventory and Shipment app is designed to make warehouse inventories in minutes with mobile device. Being equipped with bar code scanner and photo capturing it will help you collect required details in seconds and add them to your database for future reference. Generate custom looking PDF and Excel reports to conveniently store and share them.
Warehouse Lease & Capacity app allows users to inspect inventories, manage shipments and perform necessary calculations. Visualize your warehouse inspections on a map, save inspection forms and share them. Sync collected data across multiple devices.
A universal Inventory Anything app helps manage inventory quickly and easily. Capture photos, text, cost, scan bar codes, calculate sales, cost and profit. Generate and share custom PDF reports with all items listed.
Find more apps here. Most of Snappii apps are customizable. You can send us your requirements to discuss.