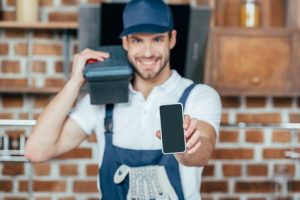 Mobile technology transforms all the processes around us. Businesses are becoming mobile and thinking about ways to make employees more efficient. Field service industry actively masters the use of integrated mobile solutions, which became so critical to achieving success. An important moment is that if your business has yet to embrace mobile technology, you may be left behind because a lot of companies have already figured out how to take full advantage of mobile apps for field service to increase efficiency and reduce operating costs. In this post you will rapidly learn these main advantages and can immediately get them.
Real-time, everywhere communication
Typically, field service staff need constant connection with managing office. Mobile field service apps change the way managers communicate with field employees and technicians. With a mobile field service app, everything from requesting and invoicing to notifications and reporting can be done from anywhere. No need to drive to the office, waste time and interrupt work. Additionally, field service technicians can communicate directly with customers.
Fast and convenient work with current data
The next point follows from the foregoing advantage and is closely connected with it. Field service industry implies work with various types of data: daily logs, inspections, audits, estimates, invoices, reports and more. Field service apps offer the easiest and most convenient way to collect different data. Pre-made mobile forms can be filled in in a few clicks at a smartphone. Also, such forms can be instantly processed and generated into reports to send. Field service apps and in-built mobile forms eliminate data loss, mistakes and inaccuracy. In the end, this significantly increases the efficiency of business.
Snappii is here to boost the efficiency of your field service business
If you are ready to make a step to the paperless world, Snappii is you best assistant. Our company provides the collection of ready-to-install field service apps, which will replace all your paperwork. All apps are 100% customizable and can be modified according to your special needs. Moreover, we can add your own paper forms right in the app. Need a personal custom app from scratch? Snappii will also make it for you in weeks. Just send us your requirements, ideas and forms.
Optimized workflow and customer service
Accuracy and timeliness help to create and maintain strong customer relationships. Waiting and guessing will break customers' willingness to hire your company. Also it hinders the workflows inside the company. Tracking and dispatching field service apps with GPS-enabled capabilities help your company provide a better service to your customers by increasing transparency and enhancing communication. Moreover, they optimize work time and help avoid overpaying.
Snappii is pleased to announce its powerful Punch In/Out Timesheet app. This app is specifically designed to easily track employees' working hours, and is used by employees and managers to improve time management and create reports right from their mobile devices. Punch In/Out Timesheet app is already used by 10,000+ employees and managers and you can easily join them right now.