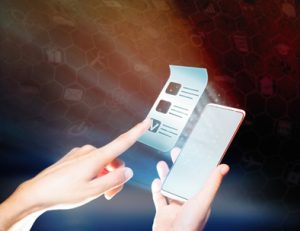 Nearly every successfully developing company today is talking about digital transformation. Going digital is the key to most opportunities for better efficiency of business. Your enterprise workflow is a way of how your people collaborate, and this is the main thing that influences business success and productivity. Digital workflow allows your company to simplify and optimize a lot of processes, eliminate unnecessary operations and extra expenses.
It's time for mobile forms
Mobile forms are a first step to the digital future. It is a digital prototype of paper for smartphones and tablets that allows you to work with multiple types of data. Mostly they help employees in the field streamline data collection. Moreover, mobile forms can integrate with other business tools and systems to enhance existing workflow. Here are some examples of how mobile forms can be used.
Fast collection and improved data accuracy with digital inspection forms
Mobile forms are the best modern tool for various inspections. Digital inspections bridge the time gap between data collection at the job site and processing the collected information in the office with subsequent decision making. Inspections require timeliness, regularity and constant availability of data received. Mobile forms and inspection apps can provide this because all the data are stored right at mobile devices. Learn more about the benefits of mobile forms for inspections and special inspection apps here.
Protect your data and your business with mobile forms
In highly-regulated industries, maintaining compliance is a top priority. Mobile forms help protect sensitive data. Paper forms are the most unsecure method of collecting data. Paperwork can be lost, stolen, damaged and easily viewed. Stored mobile data are encrypted and always at your hand.
Simple inventory tracking with just your smartphone
Mobile forms help maintain perfect control over every unit of your stock or warehouse. Inventory mobile forms allow you to create digital checklists, add goods or items using bar codes and OR codes. Thanks to special inventory apps users can instantly create inventory reports on the base of existing forms.
Make a step to mobile solutions for business with Snappii
Snappii, a leading business app development company, understands the needs of businesses in work with data while outside of the office. Our company tries to provide all the necessary tools to easily collect, process, analyze and report data, using any mobile device. We offer powerful business apps for different industries and extremely rapid custom app development. Any company can contact us and provide its personal requirements. Our team closely work with customers through the whole development process. Snappii guarantees high quality and compliance with the requirements of the finished product.
Snappii pays special attention to the direction of mobile form solutions. We offer to convert any existing paper form to a mobile app. For example daily log, inspection form, audit, estimation form, invoice, etc. Besides usual opportunities you will be able to capture signature, photos, GPS locations, barcode scanning and more. All you need is just send us your forms. We have already helped a lot of companies in such fields as mechanical construction, transportation and logistics, safety maintenance, heavy equipment management. Read about it here.