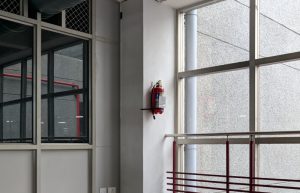 A properly working extinguisher could save many lives. To ensure that fire extinguishers are in good working condition, their inspection should be conducted monthly. Businesses can bring external professionals or train their own employees as part of an overall fire safety strategy. It is critical that employees know about the most common issues, identifying during an inspection, and knows how to respond accordingly. Here are 5 mandatory steps of proper fire extinguisher inspection.
1. Visibility and accessibility
Ensure a fire extinguisher is present in the area, and it is easily visible. It should be easily accessed during an emergency. Also, prevent the extinguisher from being moved and damaged.
2. Physical state
Closely check overall condition, labeling and physical defects of the extinguisher. Metal parts should be free of any signs of damage, as well as serial number and other notes should be readable. Check a secure connection of all extinguisher's parts. Ensure a proper condition of hose without any cracks. The pin locks prevents accidental discharge of the extinguisher. It also should be checked.
3. Pressure gauge
Check the gauge to ensure the needle points to the green area. This means that the extinguisher is fully charged and ready for use. The needle in the left red zone means that the extinguisher is undercharged, and the right red zone signals a danger of being overcharged.
4. Maintenance or inspection tag
Ensure the extinguisher has a maintenance or inspection tag with regular marks.
5. Inspection report
Besides the mark on the inspection tag, the general inspection report should be created. It usually contains summarize observations, any comments, name/signature and date.
Mobile solutions for fast and efficient fire extinguisher inspections
Snappii is able to provide a solution to significantly simplify and optimize extinguisher inspection. The ready-made Fire Inspection app is the best tool to ensure that the premises has all fire safety and fire suppression equipment in place and in good working order. The app users can carry out monthly fire extinguisher inspections and collect all necessary data with their mobile devices. Also they can take and attach photos related to the inspection. The completed inspection forms are able to be generated to the report in the PDF format. The report can be signed and shared with anyone, as well as safely stored right in the app. Fire Inspection app is available in Apple App Store and Google Play.
Moreover, Snappii can use your already existing inspection forms and checklists and convert them to the app. Thanks to powerful Snappii Form Converter, it is a fast and affordable process. You can send us your forms and requirements here. Form conversion is available as a DIY option. Anyone can try it yourself. No special skills required.