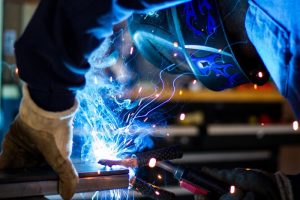 Welding inspection includes examine the connections and various characteristics of welds and bonds between metals as well as a checking of all base and consumable materials and equipment. Moreover, inspectors need to be sure that all welding activities are conducted in accordance with all safety regulation. All of these is a huge amount of data. In addition to working in the field, welding inspectors spend time in an office setting compiling regular reports.
Paperless inspections are already here
For a long time paperwork was an integral part of welding inspections. Each detail had to be recorded manually and then entered into a PC. It's obvious that such process is time-consuming, unreliable and requires extra efforts. Welding companies and departments have started actively resort to a help of mobile technologies to avoid loss of productivity, quality of work and revenue. This way, a unique solution has appeared.
The process of a few clicks
Special mobile form apps allow businesses to eliminate paper-based forms and documents. Nowadays any inspection data can be easily and quickly entered in pre-made fields of mobile forms. Just a few clicks can completely replace paperwork. Of course, it is not the only benefit of mobile form apps.
Timeliness and accuracy
Accuracy of current data influences the whole workflow. This is a guarantee of right decisions and successful business development. Mobile form apps can help avoid inaccuracies and mistakes, which are not a rarity in manual filling of paper forms.
Reliability and security
As we mentioned previously, all welding activities should be conducted in accordance with local, state and federal regulation, in addition to complying with all company safety rules. Any company must be ready for visits of higher authorities. It's extremely important to store all documentation in a proper order, be sure in its accuracy and also be able to instantly provide any data. Mobile form apps allow businesses to avoid file cabinets with their problematic management and maintenance. All data can be safely stored right at mobile devices or in the cloud. It provides 24/7 availability in case of any inspections.
Meet your best pocket assistant
Snappii, a leading business apps provider, offers powerful ready-made apps for more than 30 industries. What about welding activities, we provide the app with all primary features for quick and qualified inspections in this field. Welding Environment Inspection app includes checklists for WHMIS standards, oxy/fuel systems, electrical and abrasive equipment, hand tools and more. Get detailed information at anytime and anywhere, store data locally, synch collected data across multiple devices, work online and offline, communicate with other specialists in community forum, generate professional reports and send them. Download the app and try even more features yourself. This inspection app can help increase efficiency of the workflow, improve data accuracy, avoid incidents, cut extra costs and time. All Snappii apps are 100% customizable to meet any specific needs. For example, your personal inspection forms can be instantly converted to Welding Environment Inspection app. All you need is just contact us here and send your requirements.