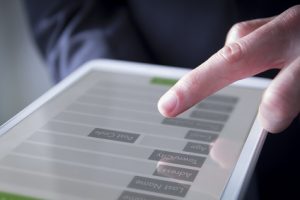 Hiscox, an insurance provider, listed on the London Stock Exchange, mentioned in its article that one of 10 biggest challenges businesses face today is exploding of data. "Grandpa's generation certainly didn't have to deal with terabytes of data or worry about what to do with it. 90% of the world's data was created in the past two years". Rather huge amount of data, modern companies collect and process, is paper-based.  In 2014, Gartner estimated that the cost of filing, storing and retrieving paper for US businesses was between $25bn and $35bn. Despite this, going paperless is still more a long-term perspective than a reality for a number of businesses.
It is time to eliminate paperwork
Mobile technology has finally provided a way to meet the demand in paperless solution. It is worth noting that this way is affordable to any business and doesn't require much effort. After all, exactly the high cost and complexity of use stopped companies earlier. Now, all you need to go paperless is a smartphone, which can be found in the pocket of anyone in the present days.
Optimize the workflow
Paper lead not only to higher operating costs, but also to a loss of productivity. Fieldwork takes up most of the daily operations in the industries like construction. Filling out paper forms in the field is absolutely inconvenient, and slows decision making and the whole workflow down. Mobile forms allow instant collecting and processing of actual data, submitting forms from the field to the office or cloud storage with just a click.
Protect your data and streamline its storage
Mobile forms enable eliminating stacks of paper and file cabinets. Automating document storage makes it much more likely that documents are where they need to be, in the proper conditions and are available 24/7. It's extremely important for various inspections of supreme control bodies. Also, companies can protect themselves in case of litigation.
Start the transformation with Snappii
Snappii actively helps different companies transform their paper-based documentation to powerful and smart mobile form apps for several years. Snappii was featured as a Top Mobile App Development Company in Portland by Clutch, a B2B research, ratings, and reviews firm based in Washington, DC. You can find more information about it here. Daily logs, inspections, audits, estimates, invoices, etc., any form can be added to an app, meeting your special requirements. You can read how 2 successful companies improved and optimized their daily project documentation with Snappii. You just need send us your forms and comments if you want to free up from bulky paper forever and streamline the work.
We are happy to announce the really big news. Snappii offers the release of a brand new Snappii Form Converter. It allows anyone to convert existing paper forms to apps himself or herself, literally in minutes and without any programming skills. We prepared even more unique features and are sure that you don't want to miss them. Be among the first to try Snappii Form Converter.