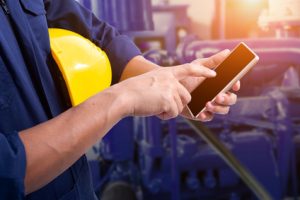 Construction reports are a daily record of activities on sites, which allows everyone, including management and clients, to stay up-to-date on progress. They are extremely important to construction projects and construction companies and act as:
– a progress and work tracker for the contractor,
– a fulcrum of payroll calculation,
– a link between the job sites and office,
– an official confirmation of activity for workers,
– and more.
Innovations are already in your smartphone
Up until recently, daily reporting was a tedious and long paperwork. The traditional methods of using paper-based forms require 2-3 hours a day. With all the pros of daily reporting, it is a huge consuming of time, efforts and money. Fortunately, nowadays mobile technology has drastically changed this process and provided the unique advantages. Mobile forms offer the replacement of paperwork, and special reporting apps allow users to perform various data operations right in the field, using their mobile devices. This way, what took 2–3 hours, now can be done in a few minutes with a minimum effort.
Increased workflow efficiency
Reporting apps provide project managers the most accurate and timely data, which allows them to make the best decisions and instantly eliminate possible problems. This offers a significant increase of workflow efficiency. Streamlined reporting process influences the whole construction project and contributes to its success and increase of company revenue.
Optimized data storage
With reporting apps, all documents are not only easy to create, but also conveniently and safely kept in one place. They are available at any time and companies can get rid of stacks of paper and file cabinets. Also it is a way to cut the costs of paperwork maintenance.
Everything construction industry ever needed
Snappii, a leading mobile business app provider, has supplied construction industry with a plenty of powerful construction apps with different features. For example, Construction Daily Log app, Construction Manager app, Constriction Timesheet app, Construction Estimator app and more. All of them are available in the App Store and Google Play. However, we understand the uniqueness of each separate business and strive to satisfy them all. Snappii can customize any of these ready-made apps or create a custom business app from scratch. The process is based on your personal ideas and needs. We've already helped thousands of companies and you can contact us to learn more.
And even more
Snappii offers even more opportunities for work with daily reports. Recently we have designed a solution to let anyone easily convert any paper form to mobile form app. With our brand new Form Converter, managers or other specialists can generate reporting apps themselves. Users can pick a ready-made template or upload existing PDF form or report and convert it to the convenient mobile form. Then they upload Snappii Mobile Forms app and can easily fill out their form right on a smartphone. After filling out, the app will generate the complete report. This way, reporting becomes the process of several clicks. You can fill out your forms anywhere and at any time, instantly create reports and email them. It is absolutely free to try and Snappii live support chat is available to help you.