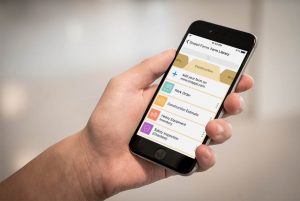 Completing a PDF on a mobile device is helpful for business but impractical for a person. Static PDF means users have to scroll up and down, left to right, zoom in and out to fill it out. It's time consuming and inconvenient for workflow and for work in the field. That's why, Snappii has developed a solution to convert any PDF to mobile form. Snappii Form Converter allows users to generate mobile forms and Snappii Mobile Forms App makes it possible to instantly fill them out on a smartphone. You simply fill out the fields and the app will generate and complete your PDF.
Just imagine how much time it can save. What took 2-3 hours each day, now can be done in several minutes. As we know, time is money, so Snappii Form Converter and Forms App also save money and contribute to cut general expenses.
Why Snappii Mobile Forms App
We have made Snappii Mobile Forms app even more powerful by adding some special features. If you don't have your own PDF forms, Snappii App comes with 100+ ready-to-use form templates for general business, construction, various inspections, transportation and logistics, warehousing, etc. Fill out any form once, and the Forms App remembers your answers, so the next time you can just pick previous answer or autofill the entire form. Save a plenty of time! Hate typing or work in gloves? The forms can be filled out with just your voice. Tap the microphone and just speak. Snappii App converts your speech to text. Some fields are filled in automatically, for example user location.
You can find more unique benefits trying Snappii Form Converter and Snappii Mobile Forms app free. No special skills needed, it is available to anyone. See for yourself that filling out PDFs on mobile device can be fast and convenient. And below you can find a comparison table why Snappii mobile form solutions are better and win in the market.
Snappii vs Adobe
| | | |
| --- | --- | --- |
| | Adobe | Snappii |
| Take unlimited pictures | – | v |
| Annotate on pictures | – | v |
| Vertical field layout | – | v |
| Easy to fill out on smartphone | – | v |
| Put a signature | v | v |
| Calculated fields | – | v |
| Numeric and text fields | v | v |
| Capture audio | – | v |
| Capture video | – | v |
| Drop down | – | v |
| Barcodes and QR codes | – | v |
| Automatically determine location | – | v |
| Autofill form with one touch | – | v |
| Autofill any field with one touch | – | v |
| Voice to text conversion | – | v |
| Pre-made form templates | – | v |
| Previously saved versions | – | v |
| Information saved to a database | – | v |
| Consolidated reporting | – | v |
| Ability to fill forms in a group | – | v |