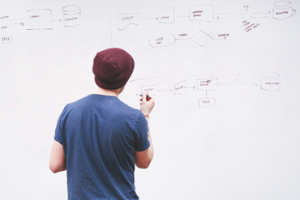 With the rapid development of business mobile solutions, simply good mobile apps are not enough. Moreover, commercial ready-made apps do not always offer organizations the necessary flexibility and functionality to compete in mission-critical domains.
What Is next after Speed Achievement?
Mobile technology has revolutionized the business world and continues to meet its growing needs. The demand for more speed in mobile app development has already been met through RMAD (Rapid Mobile App Development) platforms on the codeless basis like Snappii's. Now customers are turning their attention to apps' content and their user experience and expect individuality, flexibility, immediacy, and innovation from modern business apps.
Benefits of Custom App Development
Custom mobile app development is rapidly gaining momentum as it satisfies modern customers' needs. Chloe Adams in her article How to Tech highlights the following benefits of custom app development:
– Personalized UI ensuring better UX and user engagement
 – Better features and functionality
– Assistance in brand building
– More control over the app
– More convenient changes
One More Unique Solution
Customized mobile apps are usually created from scratch. However, Snappii, a rapid mobile business app development company, offers a unique solution to customize its ready-made apps. You can choose an app from our vast collection based on your industry or kind of operation, explain the changes and additions you need, and our team will deliver the app you need in just a few days.
In  her article Information Age, Chloe Green writes, "if we've learned anything from the past decade, it is that the organizations that win are those that respond with speed, accuracy and a differentiated solution – one that meets the needs of their market, their customers and their business partners". Snappii operates in accordance with this principle and offers a number of unique solutions for your business to stay ahead of the game.