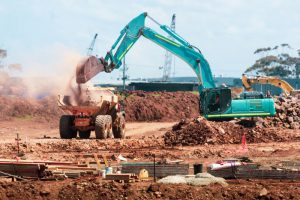 Heavy equipment is crucial to a construction company's success. It takes on the toughest jobs and speeds up the workflow. However, even the most powerful and dependable heavy equipment requires constant attention to ensure it provides a long service life and unmatched productivity. Also, it is worth noting that construction heavy equipment is extremely expensive and its repair will also cost a large sum for the company. And don't forget about the expensive downtime. Given the facts above, professionals likely want to keep their heavy equipment running at peak efficiency for a long time. And here's what they should do.
How to keep heavy equipment running
Heavy equipment maintenance consists of the steps to identify, fix, and prevent problems. It can be split into two different categories: preventative maintenance and reactive maintenance. Of course, it is better to be proactive when it comes to heavy equipment. Regular heavy equipment inspections help predict when failure is likely to occur, allowing professionals to find a solution to problems before they happen. However, such inspections are complicated by the fact that they occur in the field. Working with paper inspection forms and checklists in such conditions is inconvenient and unreliable. That's why often heavy equipment inspections are postponed, poorly conducted, and contain inaccurate and untimely data.
Heavy Equipment Inspection app for paperless inspections in the field
Taking into account these difficulties, Snappii has developed a mobile solution for fast, simple, and paperless heavy equipment inspections. The Heavy Equipment Inspection app allows users to conduct detailed inspections covering each major system and component of heavy equipment. The pre-made mobile inspection form can be filled in in a few clicks on any mobile device. Indicate problems, disrepairs, malfunctions in the equipment performance, and instantly notify mechanics about maintenance issues or repair services required. As soon as the inspection form is completed, it gets saved locally on the device and there is a PDF and an Excel file generated. These files can be printed and shared via email, text message, cloud storage and other options. Watch this video to learn more about the Heavy Equipment Inspection app. The app is available in Apple App Store and Google Play.
The Heavy Equipment Inspection app can be modified if you are not completely satisfied with its ready-made version. Send us your requirements and let's discuss the customization.