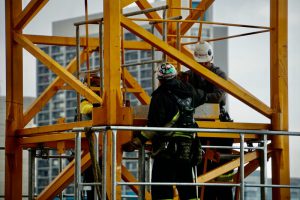 Construction is well-known as a hazardous industry. The good news is that construction accidents are declining. According to OSHA, workplace fatalities have decreased by more than 65%, and occupational injury and illness rates have declined by 67%. However, still, plenty of accidents happen on construction sites and it is important to report about them instantly.
What is an incident report?
An incident report is usually used to capture injuries and accidents, near misses, health and safety issues, property and equipment damage, and more. It is a document that includes the root cause and corrective actions and it should be created at the time an incident occurs. Incident reports should be properly kept and provided when requested. Incident reports help improve the safety of the working environment and legally secure employees and a company.
The new digital format of incident reports
The completion of incident reports can be a real difficulty for workers in the field. The paper-based form of such reports is inconvenient and requires much time to fill in. Today, more and more construction companies turn to mobile solutions to streamline the completion and record-keeping of incident reports.
Nowadays, mobile devices are what everyone has in their pocket. Workers can instantly fill in pre-made mobile forms and generate them to the PDF reports to share with managers and any other specialists without leaving the site. Such an approach contributes to more timely and accurate data. Mobile incident reports can be added by photos and electronic signatures. Also, digital reports are always at hand and provide constant access.
The unique and affordable solutions from Snappii
Snappii has already managed to prove itself worthily in the market of mobile solutions. Besides the ready-made business feature-rich apps, we offer a form conversion solution. Thanks to the Optical Field Recognition system, anyone can convert the existing form or report to its mobile analog. All you need is just upload a photo of the form or a PDF file or scan it. You can find more detailed information about this simple process here. Moreover, the Snappii team can do it for you. Just send us your forms and requirements. This way, construction companies can use their existing incident reports but in a convenient and more efficient digital format.