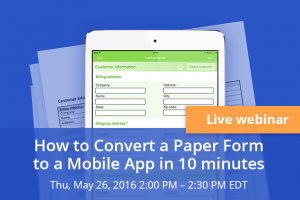 Free Webinar. Thu, May 26, 2016 2:00 PM – 2:30 PM EDT. Join here
Got Paper Forms? Want to go paperless and just use Apps?
Come and learn how to convert Paper Forms to Mobile Apps in literally in minutes
We will do a live step by step demonstration after which you will be able to do this
All attendees to the Webinar will get a FREE help from our Support team to help you build convert your first form into an App!

Paper forms are
– Expensive to print and ship
– Hard to read
– Require retyping of data into computers. Double entry
– Get lost
– And not cool anymore
Convert Paper Forms to Apps and
– Save money and time
– Collect information instantly
– Delight your customers!
See you on Thursday, May 26th 2PM EDT.