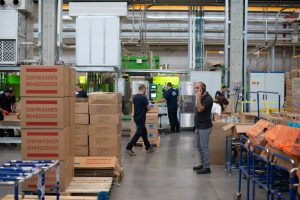 "Good, bad or indifferent, if you are not investing in new technology, you are going to be left behind."
Philip Green
Don't settle for generalized solutions
The most warehouse management apps have the same basic structure and features. Typically these apps meet general needs and help manage a business. However, in the modern competitive field, warehouse managers and owners should pay attention to advanced features as well as individualized solutions to suit specific needs.
It's the time of affordable customization
Features that used to be considered "extra" and require long and expensive development are now becoming commonplace in a warehouse of any size. Such warehouse management apps could change a game, cut costs, save time and improve efficiency. They provide integration throughout the entire specific warehouse. This means everything from procurement to shipping are under constant control.
The best assistant to realize all your specific needs
Take some time to consider how your current system operates and which features you would add. It may be time for upgrade. Snappii will be happy to contribute to the success of your warehouse business. We are in the industry of multifunctional business apps for about 10 years and worked with such companies as NationaLease, Hyster, GE, Yale, Allianz, Coreslab and more. Snappii offers upscale and fast custom app development process. Thanks to advanced and powerful App Builder, the apps are made in weeks, not months! Our customers can be a part of the development process, and this contributes to 100% compliance with the requirements. Here are 2 case studies about the work with Snappii and how the tasks were achieved. Snappii provides unique functions and individual approach to specific activities. Your warehouse business is in safe hands and we are ready to listen and discuss all your requirements and ideas. Contact our support team at support@snappii.com or here.