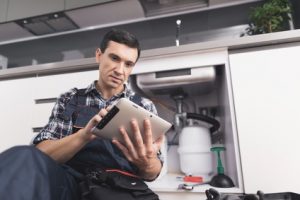 Field service organizations are constantly searching for ways to make their staff more efficient, provide better service to their customers and increase profits. This way, they have begun to recognize the importance of integrating mobility solutions into their workflow. Mobility allows field-based companies, such as HVAC, construction, utility, plumbing, property management, etc. to improve communications and provide accurate, timely data and fast response. Moreover, mobile technology enables extending work with data beyond the confinement of the office.
Optimization of communication and work with data
Lack of real-time information is one of the main issues, modern field service organizations face with. Task assigning, reporting of their statuses and any troubles, various assignments and changes need a constant link between the field and management department. Mobile technology provides constant communication as well as the optimization of the data transfer. Modern field service mobile apps allow users to assign tasks, collect data, generate various reports and more right on a smartphone from anywhere. All data can be synced and instantly shared. It contributes to the timely, accurate and current data, and consequently influences the whole workflow and its productivity.
Equipment maintenance and inspections on a smartphone
Various equipment is a part of daily operations of field service organizations. Its proper working condition needs constant maintenance. Special field service mobile apps allows workers to conduct fast and convenient equipment inspections right at the jobsite. Instant getting and orderly storage of inspection data contribute to the streamlined and safety workflow.
Customer confidence and growth
Customer demand and expectation makes the future of your company. Due to field service mobile apps, workers have the ability to respond to assigned tasks promptly, solve issues and perform tasks on time. These significantly improve the customer experience and satisfaction. The technicians with mobile devices and special smart software are viewed as more professional and reliable by customers. This way, besides the ability to improve and optimize various work activities, field service mobile apps contribute to attraction of more customers and, consequently, increase of the revenue.
Start the growth with Snappii
Technology is imperative for companies to develop and rise their success. Snappii, a mobile business app development company, offers the foundation for growth to any field service businesses. We provide powerful and multifunctional mobile solutions for different field service businesses. Contact us before adopting a field service mobility solution for your organization, and we will advise the best way specifically for your organization. You can start from our ready-made solutions and request their customization if necessary, or we will create your personal field service mobile app from scratch.
This is an example of tasks Snappii works with
Vision Elevators is one of our successful customers. Here are the main business reasons they needed to address:
To collect better information from customer sites so that more proactive maintenance services could be offered to clients
Timesheets to keep the employees honest
You can find more information about this project here.
Snappii provides the final product in weeks, not months. We save your time and money. Start getting efficient from each work operation.