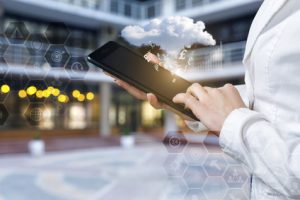 Data collection is a process of collecting information from all the relevant sources for its further processing. All businesses face it in varying degrees, and most of them deal with field data collection. The process of collecting data in the field can be long and tedious, and contain many steps. Traditional method of data collection is paper-based. Field staff collects data on paper forms that need to be manually reviewed and further entered as electronic records on PC. This common activity is not quite convenient and creates potential problems with maintaining data integrity and accuracy. Taking this into account, mobile technology has transformed this process and nowadays allows users to collect business data from the field digitally using mobile devices such as smartphones and tablets. Here are some benefits of mobile data collection.
Costs reduction
The total amount spent annually by US companies on printed documents is $120 million, while in average 45% of company's printed paper ends up in the trash by the end of the day. By reducing the need for paper and efforts, spent on its processing and storage, businesses can make some cost savings. Mobile forms offer businesses more optimal data collection without regular expenses on paper, file cabinets, printers, special workers and more.
Workflow acceleration
Mobile data collection reduces both field data collection time, and the time required for distribution, processing and analysis of data and generating reports. In fact, mobile form apps enable one person to do all of these activities with data. Any specialist can instantly fill out mobile forms, generate report and email it to the office. Timely data contributes to a faster and better decision making. With acceleration of data work, mobile forms increase productivity and efficiency of the workflow.
Data accuracy
One small error at the document can cost huge money and efforts. Unfortunately, manual data collection often deals with typos and inaccuracies. Mobile data collection reduces the possibility of errors at the collection and provides more accurate data.
Storage optimization
Paper can be unwieldy for both field workers and a staff that needs to manage and store it. Stacks of paper and file cabinets are an additional burden for workers and a waste of money. Mobile form apps offer convenient storage of collected data in the cloud. Such data is safely stored and available at any time, not to mention saved time and money to its maintenance.
Move to mobile data collection with Snappii
Snappii is an experienced provider of powerful business apps and mobile forms. Our Mobile Form Converter allows anyone to convert or create mobile forms to instantly fill them out on any mobile device. You can use your existing PDF and just transform it to the digital format or choose from the pre-made form templates for various industries. It's fast and extremely easy. No tech skills needed. With Snappii, specialists can get a ready-to-use mobile form in a few minutes. Move to the mobile data collection right today and Snappii will help you. Do it yourself or send us your forms.