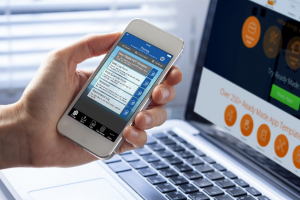 Snappii Corporation, a market leader in Business Mobile app solutions today announces that it has over 68 thousand mobile business apps built on its mobile app development platform in different industries used by 1 million users worldwide.
Snappii, a leading Mobile Business Apps company enables business users to design, build, and deliver feature-rich business apps in days versus months. Using Snappii's flexible App Builder, users can build feature-rich enterprise mobile apps once and deploy across all major platforms including iOS and Android. In addition, since the platform does not require mobile coding skills, any business person can create Apps quickly, easily and affordably. The platform also makes it easy to manage Apps and make ongoing changes.
Today, Snappii has announced that over 68 thousand apps were built by business people using the App Builder. There are now 1 million users of Apps all over the world.
Snappii mobile business apps are presented in such industries as:
Construction
Inspection
Field Service and Sales
General Business
Heavy equipment
Mobile Forms
Oil & Gas
Inventory
Product catalog
Transportation and logistics
Healthcare
Public safety
Utilities
Sales and marketing
Warehouse management
HR
Productivity
Conference
Hospitality
Insurance
Airline and airports
Real estate
Education
Pharma-bio
Consumer
Government
Manufacturing
Rental business management
Retail
Disruption to traditional Mobile Apps Development
Mobile apps developers are very expensive and developing an app is time consuming. Besides, it's not easy to find a qualified mobile app developer nowadays. Given the backlog of mobile app projects and shortage of mobile developers with Java and Objective-C skills, Snappii offers a web-based platform to help solve that problem and deliver high-quality, enterprise mobile applications in less time and on budget. With Snappii, users can build native apps once and deploy across iOS and Android platforms. Snappii mobile business app development platform allows users to create mobile apps without coding 30 times faster than programming. Snappii offers affordable user-based pricing plans that scale as businesses expand mobility.
Snappii App Builder and the Live Preview App enable its users to build and update apps quickly, instantly view changes on their devices, show apps to clients and receive immediate feedback. This dramatically compresses the development cycle, improves time to market, and lowers costs. In addition to making a mobile business app from scratch, users can modify a ready-made app themselves, or have Snappii professional app development team to quickly create it.
Snappii mobile enterprise app development platform is a real alternative to hiring expensive developers that are hard to find, or outsourcing mobile app development to unknown and unreliable companies. This is exactly why the number of apps built on the Snappii platform is constantly growing.
Users can develop and test Apps for free prior to app submission. It allows evaluating the product quality before it becomes public. Snappii has affordable pricing models that can fit any budget. For more details on pricing please visit the Snappii website:https://www.Snappii.com/pricing
About Snappii:
Snappii is a leading Mobile Apps company for Business Apps. About one million people use Snappii Business Apps in 30+ Industries around the world.
All Apps are powered by the Ultra Fast, No code Snappii App Builder Platform which enables native App creation 30 times faster than coding and costs a fraction of hiring Mobile Apps Developers. Learn more at http://www.Snappii.com.