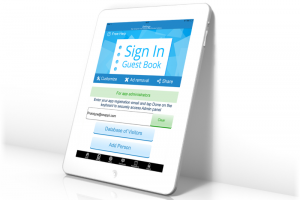 Now any company can afford to use a Mobile App to conveniently track the visitors, instantly create a database of guests as well as save time, improve customer service and make any operation more effective.
The sign-in process can be significantly simplified and and brought up to speed. Now, employees can use their smartphones for rapid work with data anywhere and anytime and all the information is available in the mobile device. Snappii, which has over 250 free and customizable business apps in the Apple and Google Stores, offers a powerful and feature-rich Sign-In Guest Book app that can be 100% customized to meet the specific needs of each organization. It takes just several clicks to sign in, track visitors and create a database of guests. Lots of information can be instantly captured including:
– Visitors' names;
– Company;
– Contact information;
– Notes;
– QR and bar code scanners;
– Photo.
Moreover, with this app users can:
– Sync information across multiple devices;
– Track visitors as they sign in or sign out;
– Get a history of visitors for any time range;
– Perform advanced search on the database;
– Export visitors in a PDF format;
– Upload Excel files with employees/companies to visit or manually add them via a form;
– Email PDF forms, print them out or upload to cloud drives;
– Contact visitors via email or call them;
– Work online and offline.
After signing in, visitors can print badges via wireless printer. The app will save and store all visitors' logs and allow them to sign out later by searching their names and date in the database of signed in visitors. The app is available for free download from Apple and Google Play Stores.
Thanks to Snappii's codeless DIY App Builder, customers can build or customize apps without any programming. Snappii offers a Check-In Book template for the creation of a powerful app by the users or by the Snappii team. The main features can give users an opportunity to:
– Meet guests at the reception and check in those who arrive;
– Easily check visitors in and off;
– See how many guests are missing;
– Export a list of visitors who have arrived;
– Securely store a database of visitors.
Moreover, users are able to order custom app development and get a ready-made product just in a few weeks. All apps can be customized and add necessary features in a few days. Snappii allows customers to increase the company's efficiency, optimize the workflow, reduce costs and improve the business. The combination of reasonable price, quality and high speed of work will benefit any user. There are even more useful mobile solutions for different industries at Snappii's website.
About Snappii:
Snappii is a unique instant mobile solution for business that offers both a platform to create mobile business apps without programming in days, not months, and a wide selection of ready-made industry specific apps that can be downloaded from the iTunes and Google Play stores at no cost. Over 20,000 apps have already been built on Snappii by large, medium and small companies. Learn more at https://www.snappii.com/