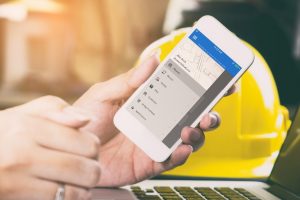 Now any company can afford to use a Mobile App to quickly create construction change order requests in the Field and ensure keep construction projects profitable.
Most construction work gets done in the field and just about everyone has a Smartphone. Construction Daily Log, Estimating, Operations and Tasks and Punch list management, Equipment Inspection and many other tasks can all be done using Apple or Android Apps.
Snappii, which has over 400 customizable business apps in the Apple and Google Stores, offers a powerful and feature-rich Construction Change Order app that can be 100% customized to meet the specific needs of each organization.
The app allows users to instantly fill in specific details including information about labor, equipment, parts, construction sites, date and timestamps, upload PDF documents, take pictures, perform specific calculations. The app can be 100% customized by Snappii to meet customer needs, a claim no other competitor can make.
With the help of the Construction Change Order App workers can:
– Create change orders on the spots
– Make a list of supervisors
– Assign orders to supervisors
– Track supervisor's feedback and proposed changes in case of rejections
Employees can:
– Easily track if their order was accepted or denied
– Re-make orders on demand.
– Estimate total hours and costs needed to complete a particular project.
– That definitely saves time and expenses as well as improves accuracy and eliminates paperwork.
Any order will be securely stored on user's device and can be emailed, uploaded to cloud drives or printed out as a PDF form. Moreover, users can upload their own fillable PDF forms to collect specific information as an additional option. The uploaded files will be saved into the library of templates that can be re-used multiple times and shared.
Construction Change Order App enables users to:
– make construction changes orders on the go
– work offline and online
– save collected orders on a device
– sync completed orders across multiple devices
– track order statuses
– remake orders on demand
– make specific calculations
– share PDF files
– add supervisors
– make reviews and comment on them
– upload custom PDF forms
– custom search by orders
Construction Change Order app is a convenient and easy-to-use mobile solution that will increase company's efficiency, optimize the workflow, reduce costs and lower deployment risks. Construction Change Order app is available for free download from Apple and Google Stores and can be 100% customized to specific needs of each company.
Snappii already has 400+ live business apps in 30 industries available for download for free on Apple and Google Play stores and this number keeps growing. Snappii is used worldwide by over one million users.
Snappii now has more construction field management apps than any other software company. The list of Construction Apps that Snappii offers includes: Construction Daily log, Construction Manager, Construction Timesheets, Construction Blueprints and Drawings, Construction Estimator and Bidding and more.
About Snappii:
Snappii is a leading Mobile Apps company for Business Apps. About one million people use Snappii Business Apps in 30+ Industries around the world.
All Apps are powered by the Ultra Fast, No code Snappii App Builder Platform which enables native App creation 30 times faster than coding and costs a fraction of hiring Mobile Apps Developers. Learn more at http://www.Snappii.com.