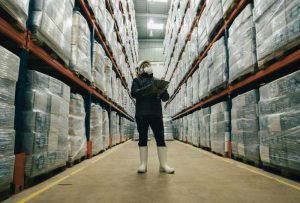 CGMP standards and regulations are an essential point to understand and implement for sellers of food, cosmetics, drugs or medical products. It is especially important if they use outsourced warehousing solution for their products. First of all let's find out what CGMP is.
What is CGMP?
Current Good Manufacturing Practices (CGMP) – are the practices required in order to conform to the guidelines, which provide minimum requirements that a manufacturer must meet to assure that their products are consistently high in quality in order to deliver products safely to consumers. These guidelines are recommended by agencies that control the authorization and licensing of the manufacture and sale of food and beverages, cosmetics, pharmaceutical products, dietary supplements, and medical devices. The regulations include manufacturing, processing, packaging and holding products. The rules that govern each industry may differ significantly. In the US, CGMP is controlled by the FDA (Food and Drug Administration).
CGMP regulations for warehouses
CGMP regulations include the "holding" of products, as we mentioned above. This way, warehouses for these relevant products must meet CGMP standards. The regulations cover all areas of warehousing: warehouse design and configuration, fire safety, pest control, competence and training of the warehouse team, forklift quality and more. Warehouses should have a documented and strictly enforced set of procedures to comply with all regulations. The best way to ensure a warehouse comply with CGMP regulations is to conduct regular inspections with special mobile apps.
Mobile inspection solutions
Inspection apps provide digitized checklists and inspection forms right on mobile devices. All necessary data can be instantly added and processed. Pre-made mobile forms help avoid mistakes, omissions and inaccuracy. Inspection apps is the best way to save time and increase efficiency of operations.
Snappii provides mobile inspection solutions for a plenty of industries. Among the useful features of Snappii's inspection apps is an opportunity to generate professional reports on a base of completed forms. The reports are available in PDF and Excel formats and can be shared with anyone. Also these data can be safely stored and accessed when necessary.
Snappii team is able to convert any existing form or report to mobile app. Fast, easy and affordable. Anyone can continue to use established and familiar forms on mobile devices. Send us your forms and get a free quote to start.