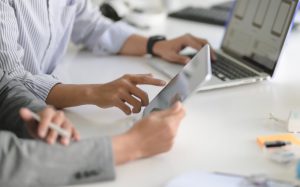 Mobile business apps are a significant advantage for any company. There are a plenty of tasks to be monitored while doing a business. Having an app means you can provide your employees with a digital experience to optimize and accelerate usual operations, as well as get an overview and a complete control over the entire workflow.
An acute question
If the question of necessity and benefits of mobile business apps has already been resolved for everyone, then the question of finding a qualified app developer is very acute. According to Evans Data Corporation, there are 23 million people working as desktop, web, and mobile app developers worldwide. If you just pick one of them without putting too much thought into it, you may lost money and even harm your business. Here are few tips on how to find and hire the right app developer.
Where to start
There is one major question you should ask to yourself: what specific business challenge would I like to solve? This is the starting point, which everyone should always keep in mind.
There are three ways that you can go about when hiring an app developer:
– in-house team,
– freelancer,
– outsourcing team.
The choice of the way depends on the resources of your business, time and financial component.
The best approach
App developers come in different skill level and expertise. It's hard to determine a suitable one just by the resume in the Internet. Search by the experience of previous customers. Ask them for any comments. However, you still should examine the developer's portfolio and look into the culture of the company. Such method can save a significant amount of time, and it is more reliable. Also there are special platforms and service with the lists of developers and their level according to different criteria. For example, Clutch, Capterra, Goodfirms and more.
Before hiring an app developer, make sure and discuss constant transparent communication. Developers should be upfront with their capabilities, limitations and unforeseen moments.
The choice is obvious
If you are looking for mobile business app developer, Snappii is a strong leader in this field for about 10 years. We offer lightning fast codeless app development in days, not months, from idea to delivery. We cover a plenty of industries and fields of activity. Snappii combines the highest standard, availability and agility. Contact us to discuss your needs and start our successful collaboration.