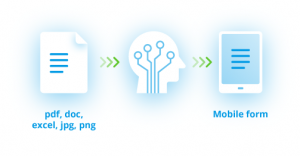 Any company using forms and creating PDF reports can now go digital instantly without investment of time and money.
Snappii, a leading Mobile Business Apps company, offering Business Process Automation and Field Reporting Apps used predominantly in Construction, Inspection, Delivery and Work Order management, has made the digital transformation affordable especially for small and medium size companies. Snappii helps to design, build, and deliver feature-rich business apps and form apps in days versus months without any coding skills.  Any business app and form app can be created quickly, easily and affordably. The platform also makes it easy to manage Apps and make ongoing changes.
Snappii has 200+ live apps in the Apple and Google Stores available for free download and use. However, the company feels that people need a better way to convert their existing paper forms to mobile form apps.
Today, Snappii has announced a revolutionary solution to help all people fill out forms five times faster using their smartphones and is welcoming all users to try it via Snappii Mobile Forms app. The solution is called Optical Field Recognition (OFR).
How does it work?
Nowadays, people are doing everything using their smartphones. Needless to say that a smartphone is a great tool to fill out all the forms with, including government forms, inspection, inventory, time tracking, job estimates, etc. These and many other business forms can already be filled out using a smartphone.
Most businesses already have their own forms they want to use. However, it took time to create a mobile form using an online tool. With Snappii's invention, this process will be reduced to seconds. By simply uploading a photo of the form or a PDF file or scanning it, Optical Field Recognition:
– uses Artificial Intelligence
– just like a human being examines a form and finds fields that need to be filled out
– instantly builds a digital version of the forms which consists of
1) a vertically oriented mobile form for smartphones
2) a PDF with fillable fields inserted in correct locations.
"Today we welcome all users to try our brand new Optical Field Recognition, – Alex Bakman, Snappii CEO says. "A process that used to take 2 to 3 hours to do manually, now with optical field recognition can be done in seconds. This means that any company using forms and creating PDF reports can now go digital instantly without investment of time and money! This is the key point that differentiates Snappii from its competition. If you are a regular user of Snappii, here's a great opportunity to help us make the next release the best ever."
Besides using OFR, a user can start a form from scratch or use one of the ready-made templates. The process of adding forms is really simple. Adding fields one by one, a user can also specify the type of the field: text, date, time, location, phone, email, checkbox, radio button, photo, signature, etc. Additionally, a user can insert static text, image or a line break to the form and the PDF accordingly.
What is the cost?
Snappii offers flexible subscription options. Anyone can find a solution that best fits their needs. Other than providing a per user per month plans that start at $20 and go up based on the number of users, Snappii offers a forever free plan.
"We want to help every business go digital and exclude paper forms from their workflow." – Alex Bakman, Snappii CEO says. "With a free solution that we offer, you can use one form on one device and submit as many reports as you need for as long as you want. For businesses with more than one form, we offer per user per month plans starting at only $20 and going up based on the number of users. We have a flexible discount system and individual plans."
With every plan, the users get unlimited cloud storage, user-friendly PDFs and unlimited form submissions. Paid plans allow users to have unlimited forms.
All are welcome to try the brand new Snappii Optical Field Recognition solution by uploading their existing forms. Download a free Snappii Mobile Forms app from the Apple App Store.
About Snappii:
Snappii is a leading Mobile Apps and form apps company for Business Apps. About 500,000 people use Snappii Business Apps in 30+ Industries around the world.
All Apps are powered by the Ultra Fast, No code Snappii App Platform which enables native App creation and modification 30 times faster than coding by hand and costs a fraction of hiring Mobile Apps Developers. Learn more at www.Snappii.com.