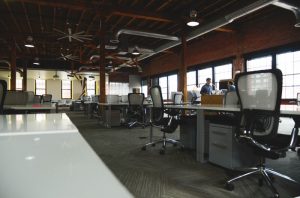 It is obvious, that if the employees of any business are happy, their productivity increases, and this is exactly what helps the business grow. Improving efficiency in the workplace starts from enabling employees to work smarter, not harder, as well as from maintaining and developing of such important factors as work environment, job satisfaction, effective leadership, right tools and equipment and more. The tips below will help find and implement the strategies of boosting employee engagement and increasing the efficiency of the workflow.
Delegation
Delegation may provide some risk, however it increases responsibility of employees, what is important for improving the morale. This contributes to a sense of achievement and development in their careers. Moreover, it is a perfect opportunity to identify new talents and strengths of the team.
Flexible work hours and remote work
Flexible work hours may let employees work more efficient. Also it is worth considering the possibility of making some part or the entire team remote, or offering more work from home days. "Buffer, Edgar, Zapier and Groove are among many companies that run on fully remote teams. It's more than just a trend. According to reports, using remote teams improves workplace productivity by 13 percent," according to Entrepreneur.
Comfortable workplace conditions
Workplace should be not just safe but also comfortable for employees. Inconvenient environment distracts from concentration, and employees will spend more time trying to improve their conditions. Ensure both heating and air-conditioning systems are in working order, the workplace is clean, all equipment and tools are in good condition and in place, lighting complies with standards, etc.
Automation of tedious activities
There are some monotonous, laborious and time consuming tasks, which may not be related to immediate work activities. For example, paperwork. This tires employees and reduces their interest in progress and in increasing the efficiency of the workflow. Try to automate such operations. There are many technologies, which significantly excelled in this direction. Special mobile apps allow businesses almost completely eliminate paperwork and work with all documentation using mobile devices. This contributes to more fast, optimized and reliable work with various data, as well as provides a positive effect on the efficiency of all operations.
Why you should turn to Snappii
Snappii is an expert in transferring to paperless business. We offer unique solutions of developing custom apps for businesses and converting existing paper documents to their digital analogue. Learn more about DIY form conversion here and try it yourself. Also, Snappii team is ready to do it for you. Send us your forms and requirements here. Need a complete custom app for your business? You can send us your requirements to discuss.