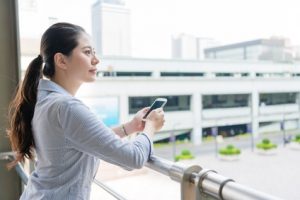 One of the main responsibilities of managers is to ensure the productive and efficient workflow. Today managers no longer need heavy laptops and piles of files to write tasks, various notes, generate reports, timesheets, etc. Thanks to modern mobile solutions, all they need for efficient management is just their smartphone.
Time is money, and for managers this phrase is particularly significant. Mobile management apps provide convenience, as well as great time saving. Here are some ways mobile solutions can help managers take back their time, accelerate operations and increase efficiency.
Optimize communication with management apps
Management apps are the best way to communicate information. Push notifications and various sync features allow employees from different job sites to get necessary information instantly and always be aware of important matters. It saves a lot of time on task assigning. Managers can do it in a few clicks at a smartphone, as well as track them, add comments and changes. Also, it contributes acceleration of decision-making process.
Snappii, a business app development company, has designed a smart and multifunctional Task Manager app specifically for management operations in the field. Managers can create a database of employees, add and assign tasks, track and update tasks' statuses and generate reports. This universal management app can replace piles of paper forms, constant movement between office and work site and complex and inconvenient PC programs. Task Manager app eliminates many unnecessary operations and allows managers to spend this time with benefit. One unique feature of Snappii apps is their 100% customization. Anyone can contact us with specific requirements and we will modify the app according to them.
Avoid troubleshooting and get accurate data with mobile forms
When work with a lot of various data on a daily basis, an error or a data discrepancy require extra time and efforts. Troubleshooting decrease productivity of the workforce. Mobile forms increase data accuracy and allow managers to optimize their work with data. Filling out data directly into the mobile form avoids errors from difficult-to-read handwriting and different inaccuracies.
Snappii offers more than just mobile forms. Recently we have presented the unique and powerful Form Converter, which provides anyone the opportunity to convert any existing paper form to a complete mobile form. Users can utilize their own PDFs or choose from the gallery of pre-made forms for a plenty of industries. Moreover, Snappii has designed the universal Mobile Forms App to fill out generated form right on a smartphone. It also has the gallery of ready-made form templates for instant usage. Anyone can try Form Converter and Snappii Mobile Forms App for free and no special skills needed. What took 2–3 hours, now can be done in a few minutes. It can bring management to the next level.
Simplify and accelerate reporting process
Reporting is a quite important part of management. It allows tracking the progress of work and make necessary changes in time to get more profit. Managers should compile all the different data that's been collected manually, enter it into PC or laptop, process it and generate the report. However, modern management apps can drastically simplify and accelerate this process. Some apps, for example Snappii apps, allow users to generate complete reports right at a smartphone and share them. It can be done in a few minutes, using collected data anywhere and at any time. Moreover, these reports can be safely and conveniently stored to have constant access to them.
Contact Snappii with any questions and improve your management system right today.