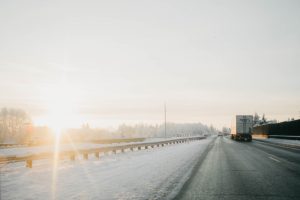 The winter season is tough for commercial vehicles. Cold temperatures affect various vehicle systems, especially batteries. One more issue involves unwanted fuel gelling and plugging filters that lead to the engine shut down. The chemicals for ice control at roadways increase the risk of corrosion of tires, trucks, and trailers. Moreover, costs associated with unexpected breakdowns in the winter season are higher than in summer. Proper and increased maintenance in the winter season is crucial to the long-term well-being of commercial vehicles and, of course, an entire business.
Why Inspect & Maintain Vehicles app
The best way to conduct fast and professional vehicle inspection is to enlist the help of the Inspect & Maintain Vehicles app from Snappii. It is a smart, pocket tool to inspect various types of vehicles including heavy and not heavy ones right on a mobile device. The pre-made mobile form makes data collection a paperless process of several clicks. Thanks to the speech-to-text function, users can even avoid typing. Also, the app allows users to document any damages with photo evidence. The Inspect & Maintain Vehicles app provides an opportunity to perform pre-trip and post-trip inspections. Users just tap a button to mark the condition of each part. After filling out the form, it can be instantly converted to a PDF and Excel report. The reports can be shared as well as stored in the app for quick access anytime. Watch this video to learn more about this powerful vehicle inspection app and see it in action. The Inspect & Maintain Vehicles app is available to be instantly downloaded in Apple App Store and Google Play.
Some more tips to take into account
The winter season requires not just special attention to the vehicle conditions, but also to the type of driving. Winter conditions such as snow and ice dramatically affect the braking distance of a vehicle. This way, it is recommended for drivers to turn to speed reduction in this period. This aspect should be taken into account even at the stage of planning the time for transportation and delivery. Also, keep the commercial vehicles safe by adequately stocking them with what they need in the case of trouble during a winter storm.
Perform regular vehicle inspections and drive safely to successfully survive this winter season!