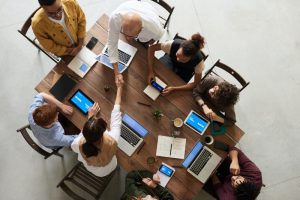 It's tough to add another task to your current already overwhelming to-do list, but we urge you to take time to write your new business plan. Here are several elements to include in this plan:
– executive summary,
– team and management
– performance and operational plan
– revenue goals
– budget
– PR and marketing
– new business tools.
Snappii is ready to help you with the last point. We offer a list of ready-made business apps you should include in your business operation the next year.
Job Estimator app
Estimation is the key before hiring certain services or starting a project. Delivering an accurate, timely estimate can be the difference between a job won and a job lost. Most estimates are done out in the field, that's why estimation apps are an essential business tool to look professional and win more jobs. Snappii offers the Job Estimator app which is a real godsend to generate professional job estimates in minutes right on a mobile device and email them to clients. We wrote about this estimation app in more detail in this blog post. Also, you can see the Job Estimator app in action in this demo video. Hurry up to download, try, and include the Job Estimator app in the list of business tools for the next year. The app is available in Apple App Store and Google Play.
Work Order Assigner app
Work orders are the engine of the operations. They power the team and start a process. If you still deal with paper-based work orders, the next year is the best time to turn to a special mobile app from Snappii. The Work Order Assigner app allows users to create paperless digital work orders, instantly assign them to any worker and get a progress report as well as a notification about its completion. It is a real must-have for modern specialists spending most of their working time in the field. Find more information about the Work Order Assigner app here and download it in Apple App Store and Google Play.
Disinfection Checklist app
People all over the world continue to struggle with the COVID-19 infection and build a life and business in the pandemic situation. The activities against the spread of infection and ensuring safety at the workplace will definitely be included in any business plan. Disinfection is one of them. Snappii offers the Disinfection Checklist app to make this process more efficient and organized. The app is based on the Centers for Disease Control (CDC) Prevention guidelines and helps individuals and businesses perform 38 checks to ensure proper disinfection. Here is the blog post with more details about this app. Also, there is a video about the app. Download and try the Disinfection Checklist app in Apple App Store and Google Play.
Inspect Anything app
It is important to take care of other inspections that are integral to different businesses. Snappii offers a universal inspection app – the Inspect Anything app. The app makes any field inspection a breeze. Users can easily capture any data they need and create full-length PDF and Excel reports. This video shows how the Inspect Anything app works. The app is also available in Apple App Store and Google Play.
Please note that most of Snappii's apps are customizable and can be modified to your specific needs. There is no need to settle for not quite suitable functionality. Send us your requirements here.