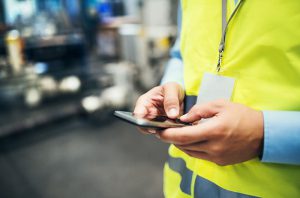 If you want to achieve great customer experience, successful business development and high revenue, you need a field workforce that can quickly respond, and operate smoothly and without delay. Outdated or static tools and solutions lead to time wasting, high expenses and untimely operations. Modern mobile technology offers a functionality specifically to improve field productivity and meet all modern requirements. Special field service apps empower field workers to complete work efficiently and in time.
Field service apps as an essential pocket assistant
Constant communication, instant estimates, convenient data collection and processing, regular reporting and more. All these features make field service apps an essential tool for any field technician. Fortunately, mobile business app industry develops rapidly and can please us with new solutions quite often. Let's consider some of them in this post.
Digital signature
If your company is dealing with various documents on a daily basis, digital signatures are a must-have. Thanks to digital signatures, documents can get signed off almost instantly, from anywhere using a smartphone or tablet. The major benefits of this feature are the ability to make the workflow more optimized and secure. The use of digital signatures will also help to cut down expenses due to the reduction of paper and elimination of trips. Some modern field service apps offer the feature of digital signature, and this has a great response among the users.
Voice-to-text feature
With modern field service apps any technician can experience the benefits of cutting back on typing. Voice-to-text feature boosts the speed of text adding by nearly 4 times. Moreover, field workers are able to record any information with greater accuracy. No need to worry about typing mistakes and corrections. Voice-to-text feature is essential for operations with high risk and increased attention, as well as for the areas with special uniform. Special field service apps with such feature can be used by roofing specialists, various inspectors, construction staff, plumbers and more.
Automatic calculations
Some field service apps allow users to make automatic calculations. Thanks to this feature, field workers can be calm about the accuracy of various data and estimates. It is several times more convenient and agile than using a separate calculator. The feature of automatic calculations can be customized for specific operation.
PDF reports
One of the great benefits of field service apps is the ability to submit digital reports. Many companies have already enjoyed the pros of this opportunity. Read more about the benefits of reporting through mobile apps here. However, there is a more unique feature, which is able to provide even more advantages to modern businesses. Snappii offers a feature to generate the completed mobile forms into the PDF format report. This is the more professional-looking and convenient reporting process. Thanks to powerful Snappii Form Converter, our team can convert your existing forms to their mobile analogue and create a pre-made report template, which will meet the requirements of your company. All you need is just fill in the forms and click the button to generate the report. It will be generated instantly in the PDF file, which is looking exactly you need. The PDF files are easier to print and safer to store. This Snappii's feature can raise your company to the next level and help win more business. Contact us to learn more and discuss this.