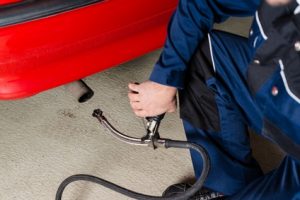 Everybody knows that vehicles are a significant source of air pollution that can damage the environment and public health. Concern about this has been expressed periodically, but national concern was first evidenced in 1960s. Emissions regulations and standards have a great history in each state. Nowadays people continue closely control this issue. Proper maintenance of vehicle emission systems not only limits harmful influence, but also can improve fuel efficiency and vehicle performance. That's why any company with fleet should pay strong attention to timely vehicle inspection and maintenance. We know of a powerful tool to help with this.
An urgent issue of vehicle emission inspection system
Regular inspections help instantly identifying cars and truck with high emissions and that may need repairs. Usually such inspections require special forms and specialists who will collect necessary data in the field, fill out these forms, process them in the office and generate reports. It's unreliable and time-consuming. Thanks to modern mobile technologies, these problems are in the history. Companies can finally get rid of paperwork and file cabinets.
Unique features of vehicle inspection apps
Special inspection apps enable specialists to quickly capture complete, accurate data using their smartphones. Digital inspection forms are ready for quick filling out anywhere and at any time. In addition to their convenience, their important benefit is reliability and safe storage. User can conduct the inspection of all vehicle systems, including emissions, and be prepare for requests of state organizations. No need to search for necessary paper documents in littery file cabinets. Digital inspection forms allow avoiding mistakes and losses. They are organized and available 24/7.
Even more opportunities for work optimization
Moreover, inspection apps provide extended opportunities regarding data format. Specialists can use photos, audio and video files. Also they can make calculations right in the app, add GPS marks and signatures. Sometimes a form needs input from several different people. While using the apps, updates can be made by as many employees as it needs. Digital inspection forms allow inspectors to eliminate human errors and instantly generate professional complete reports using the current data. Employees just email them and avoid driving to the office. Such timely reports can provide valuable insights into areas of improvement and help avoid growth of issues.
The best modern provider of inspection apps
Snappii, a leading business app development company, successfully works with vehicle and fleet management companies. Are you looking for a way to make your inspections easier? We offer powerful inspection apps and eliminate the need for additional efforts and costs in this process. You can find our apps for this industry here, quickly download and try them and over 200 other apps for 30+ industries, paying just for 1 app. Moreover, Snappii offers custom app development and conversion of existing paper forms to mobile apps. Any company can send us the forms and we will modify them into the digital format. We have already helped thousands of companies and confidently continue our enhancement. Automate any business process and go digital right today.