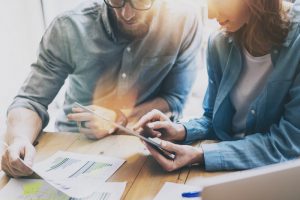 Mobile app industry is one of the leading fields that is growing at the fastest pace. Apps are expected to generate $189 Billion US dollars in revenue by 2020, according to Statista. The trends are structured around the automation of more various tasks and processes to let people develop businesses instead of performing routine daily operations.
Artificial Intelligence
One of the top trends in 2020 is AI-powered solutions. It significantly impacts daily business life and creates new opportunities to accelerate operations, increase accuracy, identify and prevent risks, improve the customer experience and more. According to Statista, by the year 2025, the global market for Artificial Intelligence will exceed $89 billion. AI solutions help gear up and understand the users' engagement, foresee their needs and simplify their experience as much as possible.
Programmers and developers assemble, arrange and mass the data to feed it in the machine learning algorithm. Using AI technology, Snappii, an innovator and perceptible stakeholder of the business app market, has turned the app creation into the process of several clicks and choices. And nowadays anyone can become a developer of a complete mobile app.
Augmented Reality
People have long been using the Augmented Reality apps for fun, such as playing games, creating 3D pictures and videos and so on. However now Augmented Reality offers a relatively new direction and unleashes a completely new world of possibilities to business. Many industries can leverage AR apps' benefits to provide something unique and more advanced to their customers. For example, real estate sector. The app with AR technology can give real-time open house experience to the customers right on their smartphone.
Voice search and voice to text
A voice has become a tool of searching, purchasing, managing devices and more. The voice technology brings the new opportunities to businesses, significantly accelerates and automates processes. We think that this trend will receive even greater development and demand the next year. Voice-to-text feature provides special benefits for industries with physical work at the jobsites, such as construction. Snappii Construction Daily Log app already offers this. Field employees usually don't have the opportunity to fill out paper documents. With this app, all you need is just hit the mic and speak into it. It translates your voice into text and fills out the fields.
Snappii innovations
Mobile apps are a competitive space. To make mobile app development successful it is important to keep yourself updated with the latest trends and technologies. Snappii is proud to be ranked one of the Top iOS App Development Companies. Techreviewer, a research and analytics platform, has published a list, where Snappii is numbered 17 in the top 60. We do not stop there and constantly continue to develop and promote new unique mobile solutions for businesses. Our top recent innovations are Precast Erectors Planner app and In Home Care Providers app. This way, Snappii covers various industries. Moreover, the most anticipated solution will be released soon. Anyone will be able to convert their forms to mobile forms right in a Snappii Mobile Forms app in a few clicks. We invite you to develop and achieve greater success with Snappii in 2020.