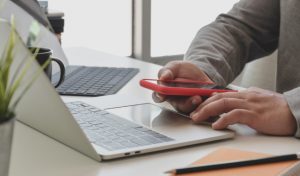 The app development market is expected to grow by leaps and bounds, potentially becoming a 6.3 trillion dollar economy by 2021. Today business app developers focus on cross-platform mobile app development, and try to understand whether this will be the right and beneficial solution for companies. Native apps are usually fast and high performing. However for some businesses, developing several apps of different platforms for the same purpose is time-consuming, expensive and does not seem like efficient strategy. Cross-platform apps become a more reasonable choice for them in this context. Here are some pros and cons of choosing cross-platform app development.
Pros
Lower development costs
Businesses pay for a native app development. And further this cost will multiply for every native platform the app is coded for. With cross-platform apps, there is a single code for multiple platforms and it is reusable. This contributes to relatively lower costs during development.
Faster delivery to the market
In cross-platform apps changes have to be coded only once. All updates can be deployed and synced across every device at the same time. This contributes to faster delivery of different modifications to the market.
Wider reach of the audience
With cross-platform apps you can contact iOS and Android users at the same time. This will allow you to capture a larger share of the market faster, build a user base in a short time and see a more complete picture of business development.
Better Cloud integration
Cross-platform apps can be easily integrated with cloud settings. Only one source code needs to be coordinated. This enhances a compatibility with any plugins and extensions.
Cons
More time for code maintenance
Most of apps should be updated each time any OS is updated to keep compatibility. Also, after the update, the compatibility should be tested with all the platforms the app is running on. This requires some time.
Low flexibility
While coding for multiple platforms, developers invariably lose access to certain features of the OS, API's and the device. Certain features of all platforms should be dropped out to provide features that are supported on every device. Full integration and flexibility are sacrificed.
Restrictions in graphics
When it comes to heavily graphic reliant apps, cross-platform apps may be not the best solution. Developers may face severe restrictions on the 3D graphics or complex graphical user interfaces. Apps may not have access to core graphics libraries, and it will have an impact on performance.
Security concerns
Cross-platform apps can be vulnerable to threats that affect different platforms in different ways. Also, all cross-platform apps that deal with user or corporate data have to be compliant to security features for all the platforms it runs on. This is not an easy task.
Considering app development for your business? Snappii can become your leader in this process. We create powerful business apps for a plenty of industries for about 10 year. Our customers appreciate us for the highest standards, rapid and cost effective work, agility, excellent support and high quality of service. Snappii has helped hundreds of companies. Contact us to learn more and discuss your requirements.